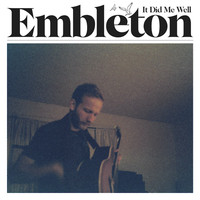 Embleton's "It Did Me Well" comes straight from the heart. With a raw passionate sound the songs positively thrive. Tying together the stylistic twists and turns that pepper the album are the lovely, tenderly sung lyrics. Kevin Embleton's voice serves as the core of the album, whether he's going for the alternative country rock dreaminess of the title track or the intimate setting of "Sad Songs and Waltzes".
Bandcamp
https://embletonmusic.bandcamp.com/album/it-did-me-well
Spotify
https://open.spotify.com/album/3MjsxYFlgMNy9zaRnxEQ7h
By far the highlight of the album is the opener and title track. Interplay on this song is deft. The languid tempo works wonders helping to further emphasize the narrative that Kevin Embleton employs throughout the song. Nice flourishes of harmonica works wonders on the earnestness of "Not Ready". Taking on a dramatic flair is the elegant cinematic work of "Leaving For Good". Sadness is reflected in the song's mournful lyricism. Going for a hopeful tone is the cheerier "Only Begun" where Kevin Embleton emphasizes the positive elements that one looks towards in the beginning of any relationship. Calm and contemplative in tone is the gentle "Her Name Was Grace" where the organ work is particularly fantastic. Jaunty and full of life is the playful work of "Punches" with strong lively drumming and defiant lyricism. Bringing the album to a soothing close is the blooming work of "Mountain Time" whose naturalistic flourishes reach a climax at the very end, falling out to reveal Kevin Embleton's tender vocals.
Album For Free:
http://noisetrade.com/embletonmusic/it-did-me-well
On Embleton's "It Did Me Well" relationships are explored in full through carefully crafted tasteful arrangements.
http://www.embletonmusic.com
http://facebook.com/embletonmusic
Posted by Beach Sloth