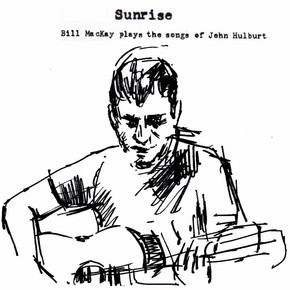 Tompkins Square and Ryley Walker teamed up to produce a reissue of guitarist John Hulburt's 1972 private press LP, Opus III, released in 2015. Ryley and Bill MacKay released their duo LP, Land of Plenty, this year as well. And now Bill MacKay releases his own album of John Hulburt tunes !
Through his extensive work in creative folk, experimental rock, and improvised jazz, Bill MacKay has emerged as a highly inventive composer-songwriter and versatile, unpredictable guitarist. MacKay's recent releases include a duo record with Ryley Walker entitled 'Land of Plenty', and 'Altamira', the third recording by his band Darts & Arrows. MacKay is now featured on Tompkins Square in a unique setting playing music by Chicago folk legend John Hulburt.
'Sunrise: Bill MacKay plays the songs of John Hulburt' features MacKay's intimate takes on a handful of songs from Hulburt's 'Opus III' LP. 'Opus III' demonstrates Hulburt's incisive and melodic songwriting and sure command of fingerstyle guitar.