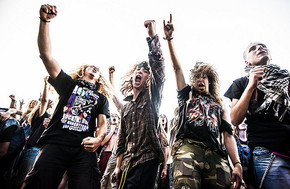 Dressing the rock star part isn't one of the easiest fetes. With so many copycats and stale styles, dressing your part might turn out to be one of the most difficult things. The days of the large grunge costumes are gone.
Additionally, it is too late to put on the baggy sized jackets. That 20th century rock star look. Today's society expects something trendy, sexy yet free and attractive enough. You need a blend of leather, spikes stud and other edgy pieces that not only portrays your passions but also brings out your personality; these 4 pieces will gran you that.
1.Dark Skinny Jeans
It does not matter your body size, a rock star will always look stunning in black skinny jeans. Depending on personal preference, you can opt for plain, shredded, or coated jeans. Go for black skinny pants that reveal your killer footwear. They should not be too long; they will deny the shoes the attention they deserve.
For the best look, pair your jean with sky-high ankle boots. They bring out the best features of the trouser without necessarily stealing the show. With your black skinnies, you can also try out a white tunic top under a black leather jacket.
2.Studded Boots
The ankle high boots look trendy for rock stars but studded boots wrap up the rock star band fashion. When it comes to choosing studded boots, you do not have to limit yourself to the common knee high options. There are extensive varieties of boots to choose from; wedges, flat boots, or ankle length studded boots. It all narrows down to your passion and personal taste.
To bring the most out of the studded boots, go to your wardrobe and pull your favorite striped shirt. Pair it with a denim jacket and get the killer rock-star look that everyone craves for. Alternatively, you can match the boots with a dainty dress and an over-sized cardigan. Remember, it is not about looking modest but bringing out the true rock star spirit in you.
3.Flannel Shirt
If you a rock star band member and you are missing Flannel shirt in your wardrobe, stop everything and go grab yourself a price or two. Their convenience stretches far beyond the fact that they can be fashioned with varieties of wholesale clothing. So how best do you get the rock star look with this piece?
Button up the flannel shirt and wear it under canvas sneakers. The leather jacket look is also a brilliant idea of putting on flannels shirts. Kill the look by adding edgy jewellery and revealing scarf; you will like it. They do not have to be worn every single moment. You can also tie the shirt around your waist after wearing the trendy rock star dress; it will still give you the desired look.
Dressing the rock star band part can be tricky but its manageable. Apparently, it does not have to cost you a fortune to dress the part. Nearly all the clothing is available in local outlets at friendly prices.