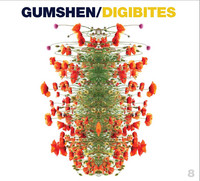 Gumshen's DigiBites is downright infectious. With slinky electro grooves and effortlessly cool vocals, Gumshen shows that electro is far from over. Full of optimism the well-executed works are full of color. Pieces recall many of the staples of DFA's roster, most particularly Holy Ghost! By letting their sound evolve gradually they are able to cover a lot of territory. Volume is a must as this is music that should be put on at full blast. Parties ought to have at least one of these songs thrown into the mix.
Here is a music video:
https://youtu.be/zW1D4HCb-Ug
"A Scene Like That" opens up the album with serious energy. This continues with the flexibility and taut guitars of "Be Here and Now". On "Be Here and Now" the song has a lovely sweetness to it. Coming down a little bit is the contemplative work of "Latency Head". Great color is used on the steady rhythm of "Don't Stop the Music" with particularly strong vocal delivery. By far the highlight is "Pick Up the Slack". For this track Gumshen taps into the best of LCD Soundsystem with an addition layer of playfulness. The jagged groove recalls LCD Soundsystem's "Time to Get Away". Moving into moody dance textures Gumshen explores more introspective territory on "Talk to Me". Further down this path is the quiet work of "I Need a Friend". For "Hint" Gumshen explores murkier bass-heavy elements of sound. Ending things off on a high note is the driving rhythm of "One Track Mind".
Digibites is electro pop done to perfection.
Posted by Beach Sloth