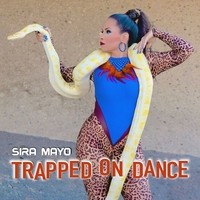 Sira Mayo's "Trapped on Dance" blasts forth with great energy. Like all good dance albums, this one needs the volume. Everything about it displays grandeur: from the powerful vocals to the absolutely massive beats that define each song. A true love of old-school house music takes hold over the album. However, this love of the traditional early hits does not mean that it simply dwells in nostalgia. Rather the album itself celebrates the past of house music, it elaborates upon it creating an album of woozy, vibrant, and playful songs.
"Trapped on Dance" (Clips)
https://www.youtube.com/watch?v=pTgk6rM7ErY
One of the most instantly recognizable pieces is "Pump Up The Jam". Here Sira Mayo takes a muscular approach to the sound, as it emphasizes the confrontational sound of the original. By far the highlight of the collection is the absolutely stunning "Freed From Desire". For this track Sira Mayo shows off a sense of nimbleness as the track itself pulses with energy. A sense of funkiness prevails on the catchy grooves of "I Need the Sunshine – Let It Be in Tenerife". Touching upon clean giddy sound is the joyful "Everybody, Everybody – Sad and Free". For "Show Me Love" Sira Mayo employs an infectious hooks that helps anchor the perfectly powerful piece of dance-pop. Bringing things to a chaotic close is the stomping "Trip to the Funk – House Club Remix – Bloody Boy".
Audio:
https://open.spotify.com/album/4BXh0tdJpmzoq61vrDHKwT
The love Sira Mayo has for these classics is undeniable and these songs are treated with the utmost about of respect. "Trapped on Dance" is an infectious album, downright decadent in scope and execution.
Posted by Beach Sloth