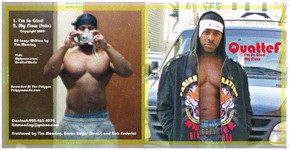 Recently it has come to a point that many in the music world have already claimed that Hip Hop is on its last breathe. Yet others in the urban market are staking their own claim that it is merely evolving with the times. Based on the EDM movement Hip Hop has taken a back seat. But artists like Chris Brown, Rihanna and others are fusing the two in many of their tracks.
This is a welcome sign for many aspiring rappers and hip hop artists. There have been many independent artists like ETCETERA who have learned to fuse dance and hip hop. One such hip hop artist on the rise is Quatte F who is not totally letting go of his hip hop roots. Better known as Timothy Mooring, Quatte F is a product of his environment and his music is an extension of it. Tim was "baptized" into music since his father brought him to church where he sang gospel and soul. His father basically planted the "music bug" in him.
Tim took his talents into an organization called "STRICKLY STREET ENTERTAINMENT" which is currently named R.O.C. With SSE he was able to perform and expose his talent. They have posted their music on YouTube and hosted many events in their hometown of New Jersey. Yet he would soon venture on his own to build his own brand. He was inspired by acts like 50 cent, Rick Ross, Jay, Dru Hill, and Tyrese etc.
While he was trying to pave his way he submitted his own song entitled "I Guarantee" which was nominated for the Make It Or Break It radio show. This only encouraged him to forge ahead with more tracks. His most viewed YouTube release "Private Pictures" – https://www.youtube.com/watch?v=Fv4zVcas_b0 – has over 700 views is a testament to his unique style. Besides the YouTube activity his fan base overall has reached over 7000.
His stage name is also unique in its own right. As a young boy he acquired the nickname "speaker of three" due to his various musical styles. No one was able to "pigeon hole" him into one specific category. The name Quatte F stands for Q-qualify U-unique A-assistance T-to T-teach E-each F-foundation. Hence each style of his music.
Tim has been busy in the studio preparing to compile his tracks into one CD that could display his varied styles. Be on the look out for this traditional yet modern Hip Hop artist that bleeds with quality, attitude, talent, trust, engagement and fresh beats, Quatte F.
by Nick Christophers