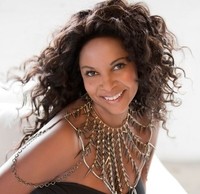 'Beautiful and Strong' is a single by the Kenyan singer-songwriter, Salome Pacific, who has so far, delivered songs that are full of warm susceptibility and a gripping emotional connection, attached with the beautifully penned lyrics.
She managed to conquer hearts wherever she went, with her beautiful vocals, powered by extraordinary lyrics. She has travelled several places, exploring different cultures, traditions and different genres of music to find a pick that appeals to her inner aura, the most. She is someone who believes in the concept of her artistic destiny. While growing up, Salome was part of the gospel choirs of her church, exposing her to music of the divine, from a very young age. This exposure, eventually led her to create and develop elaborate harmonies and rhythms, over the course of time. Salome, later on moved to Köln, Germany, where she forayed into the professional music industry, by playing for professional agencies. She later started recording for Sony.
To Salome, music has always been a respite from her sorrows and miseries. Music comes naturally to her, and the fact that she pens down amazing lyrics, makes her songs personal and appealing. Her penmanship makes her a brilliant songwriter. Salome says that songs just come to her in her sleep, which reflects her artistic destiny. 'Beautiful and Strong' truly reflects for what she is, her dazzling personality, her musical prowess, and her ability to command the attention of her audience, by her mere presence. The lyrics, in a subtle yet strong manner present Salome's vigor and spiritedness, her most appealing qualities.
The track starts off on a brilliant note, continuing as the ebb and flow of the song find no shore, until towards the end. Every aspect of the song, is brilliant and shows no room for any disappointment. Apparently, on the day of the recording of 'Beautiful and Strong,' Salome was rather skeptic go ahead, and she even said, . "I wondered, 'How can I sing these lines when I'm not feeling this way?' But she tells how producer reminded her that she had nothing to prove, because she is strong and beautiful. This sense of accomplishment and magnificence is evident throughout the song. Coupled with the beautiful, lyrics and her soulful voice, the composition is simply captivating. The song is rich with subtle culturally reminiscent tokens, probably from her many travels. Each aspect of the song vies to her express her musical talent and that's not even the most beautiful part of the song.
YOU TUBE: https://www.youtube.com/watch?v=ADoC3aTeQOQ
Primary URL: http://salomepacific.com/
Rating: 8/10
– Adrian Rowe