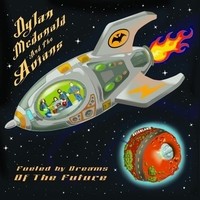 Dylan McDonald and The Avians' latest release "Fueled by Dreams of the Future" is an diverse rock album with a sound that is all their own. This band is reminiscent of rock legends from the 60's and 70's, but they bring their own fresh take. With great rhythms, unique melodies and distinctive vocals, this album showcases the band's dynamic talent.
The album starts off with the song "Broken Lullaby," which has a catchy beat and just the right amount of guitar to create a powerful sound without going overboard. This song is edgy from the vocals to the changed-up rhythm. I like the way this band creates a vibrant sound on this track—it's a fitting start to an album that is not afraid to be different and go out on a limb.
Just as well as this band does edgy, they do smooth and laid-back. At the beginning of the album's title track, "Fueled by Dreams of the Future," they create a cool, mellow sound that is a great contrast to their upbeat tracks. As with many others on this album, this song changes it up and builds with more energy, so its rhythm keeps you guessing—one of the most enjoyable aspects of this band's sound. Another song in which this band achieves a laid back sound well is in "Backwoods Royalty."
One element that detracts from this album for me is the lead vocals, which I find a bit nasally, giving it a whiny quality at times. I appreciate that this quality is what makes for their "edgy" sound, but some of the songs on this album weren't quite what they could be had the vocals been toned down a bit. It seems the lead vocals take away from the great song-writing and musical energy of this band on the whole.
I enjoy this band's quirkiness and creativity, like on songs such as "The Ballad of James Gatz," the story of a man who spends his life pining after a woman whose love is "the only thing" he "can't buy" (perhaps a tribute to the plot of The Great Gatsby). This song is fresh and fun, with a great beat and hook. This group shows talent not only musically, but in smart song-writing.
Overall, "Fueled by Dreams of the Future" is a solid modern rock album with a feel nostalgic of the classic 60's and 70's sound. They pack a lot of power and have taken a classic sound and made it their own, which is not easy to do.
Purchase Link: https://itunes.apple.com/us/album/fueled-by-dreams-of-the-future/id897185749
https://www.dylanmcdonaldandtheavians.com/
Score: 4/5 Stars
by Christen Johnson