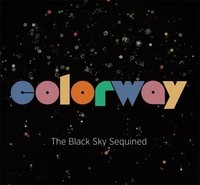 Lou Reed never believed rock music, the great populist art form of our age, condemned to disposability. He devoted significant time in the second half of his career to writing works of extraordinary depth like New York, Magic and Loss, and Songs for Drella with the hopes these albums combined the thematic weight of a literary work with the visceral punch of rock instrumentation. Opinions vary wildly about the merit of such an exercise or his ultimate success. Colorway, without question, aspires to the same ideal on their album The Black Sky Sequined. They couple wiry, lean musical textures with sharply observed lyrics in an aural equivalent of Hemingway's "iceberg theory" that if writers know "… enough of what [they are] writing about [they] may omit things that [they know] and the reader, if the writer is writing truly enough, will have a feeling of those things as strongly as though the writer had stated them. The dignity of movement of an iceberg is due to only one-eighth of it being above water." From the failed and faded dreamers in songs like "Gen Exit" to the anguished narrators and clenched-fist survivors of songs like "Explain" and "I Don't Want to Go Home", Colorway and lyricist F. Alex Johnson know more than they are showing and The Black Sky Sequined is a better experience for it.
"Gen Exit" opens the album and sets the sonic paradigm. Johnson's guitar work has extraordinary suggestiveness. His terse phrasing has such a clean, decisive touch that each line seems bristling with barely contained energy. The rhythm section of Dave Hayes on bass and J.J. O'Connell on drums is wiry and unobtrusive, but their penchant for creating space in the composition distinguishes their playing and Johnson fills these spaces with attentive vocals. There's not a great deal of emotion in Johnson's vocal beyond an appealing, darkly sardonic edge. That's the point. This is an observer's voice offering listeners a precise character study in miniature and those moments of implied judgment in his vocal add immeasurably to the performance.
"Come Back July" invokes nostalgia for lost time in its first two verses with almost Proustian recall of detail. The opening simile sets the tone for simple, yet breathtakingly exact, imagery like tearing up a calendar, shaking the sand from your shoes, and driving to the water. Johnson's technique of marrying the specific with the universal is on full display here with the song's later turn towards generalities and the band's minimalist backing approximates the rousing energies of the season with confidence and tastefulness. The mid-tempo blues burn of "Explain" will immediately grab attention with Johnson's authoritative tightrope walk on the fret board. It's easy to fall into overstatement on a song like this, but his playing maintains a delicate balance between pathos and guitar-hero histrionics.
Colorway take an unexpected turn with the largely instrumental "The Cycle". Rather than offering up more of the stripped-down guitar attack of earlier songs, Colorway elongates melodies and stretches out instrumentally without ever losing the economy of approach characterizing the album as a whole. "Everybody Wants Me to Love You" percolates with a caffeinated bounce and shows off more humor than perhaps any other track on the album. The Black Sky Sequined concludes with the layered, yet subtly humorous, "Telephone". It's perhaps not the most original of subjects, looking at the alienating effects of technology on our basic human need to connect, but Johnson's lyric and another convincing vocal colors familiar ground with unexpected flair.
It isn't a perfect outing. Some songs are a bit longer than needed and will upset, for some, the aesthetic heard elsewhere on the album. Colorway's The Black Sky Sequined excels when everything is pared back to the bone – at its best, the clarity and immediacy are overwhelming.
CD BABY: http://www.cdbaby.com/cd/colorway3
URL: http://www.colorwaymusic.com/about/
Score: 4/5 Stars
Jason Hillenburg