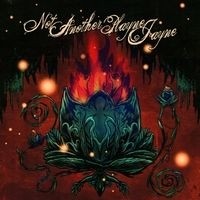 I'm always a sucker for a crisp, crystal clear sound. If the production is there, then you've got my attention tenfold. Not Another Playne Jayne, hereafter NAPJ, is a CO-based Auroran rock band. Their specialty is "a somewhat dark, yet redemptive sound." The music of NAPJ is a concatenation of a "variety of complimentary styles and techniques."
The sound of NAPJ is a concatenation you'll have to hear for yourself. Concatenating the talents of its 3 core members Stephen Jayne (vocals), Adam Stewart (vocals), and JD Stefan (Instrumentation), NAPJ have successfully merged the cellular structures of 3 awesomely talented musicians into what I am going to call a killer of a self-titled album.
The lyrics, especially the spoken word lyrics of the opening track are easily relatable. They made me ponder the daily struggle and grind that goes with human life, and how it's sometimes difficult to escape the noise, and the thought of the "inevitable letdown" of every "seemingly pointless" day when goals aren't met or progress isn't made.
The arrangement of the 11 track album is extremely well done. It doesn't bore, and it's not an overkill on the ears either, even though the genre itself is somewhat an 'intentional overkill'. The album starts off with "Only a Test," an atmospheric, and somewhat intense introduction. The spoken word element puts you in a mindset, and prepares you for the journey that is to come.
After listening through, 10 tracks into 'the test', "Treacherous Game" gives you an introductory moment to chill again, enough time to skull that water you've been grasping, and needing for about 30 minutes before it kicks off and drives you home through to the closing track "Parasitic."
In this 11 track album, NAPJ have created some awesome tunes that are definitely worthy of mosh pit presence with assembled head banging. Halfway through the album I found myself starting to move my neck muscles in a forward and backwards motion as I type, getting my groove on to the music.
It's now time for me to remove my headphones, and come back to what I call the real world. I find myself pondering that same question NAPJ did 10 tracks back in their introduction. I find myself asking "Why, why bother? Why anything? Why ask why?" Was this review even worthy of my time? And you know what, I think it was. Maybe great music like the music of NAPJ is the answer to that great question!
Thank you NAPJ, it's bands like you that make existing on this planet Earth and the daily grind seem worthwhile. Thank you Not Another Playne Jayne, you've made this day of mine different, and bearable. I can now rest, and drift off into that one place of my own, and prepare myself for what will be tomorrow.
I-TUNES: https://itunes.apple.com/us/artist/not-another-playne-jayne/id578635279
URL: http://www.notanotherplaynejayne.com/
by Jeffrey Metherell