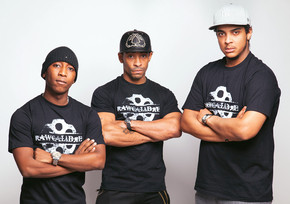 In advance of their debut 'Hierarchy' EP (Out June 29), UK grime trio Raw Calibre have just released their first single "Madman," which compares the treatment of the lower classes in the UK to that of people in mental institutions.
Raw Calibre's home city of Manchester has gained a notorious reputation over the past few decades for contributing controversial artists to the world of music, such as The Smiths and Joy Division.
A city famed for its industrial roots and rich musical heritage, but plagued with gangland violence and criminality, Manchester is still firmly on the musical map of 2015, spawning genre-defining bass music and hip hop acts such as Dub Phizix, Virus Syndicate, and Shotty Horroh. Enter Raw Calibre, the newest edition to the city's underground hip hop and bass legacy.