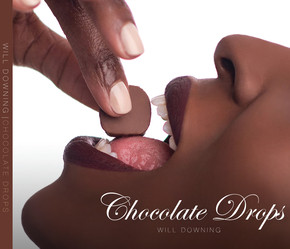 Will Downing may not be a Philadelphia native but he's involved Philadelphia talent in his tours (namely Carol Riddick) and has captured the hearts of the Philly tribe. His latest release a few months ago entitled Chocolate Drops is by far his best work yet. It's a love sampler that pierces your soul the moment you begin playing it. This compilation of work includes music for fans who have supported decades of his musical journey. It is also a tasty treat for those that will definitely become hooked on Mr. Suave's unique sound. Therefore it's for the past, current and future generations who are just getting a clue. He says it best in the opening number "This Song is for You." Here the lyrics are to the point and make you want to go home, put your feet up and relax with a glass of wine. This song has just enough of a hint of old school hip hop sample mixed with a live smooth R&B groove.
"Till U Come Back To Me":
http://k003.kiwi6.com/hotlink/qbtsqjy4hx/03_Till_U_Come_Back_To_Me.mp3
There are cover renditions such as well- known Atlantic Starr classic, "Let's Get Closer", which the Prince of Sophisticated Soul makes his own with his impeccable, refined and suave stamp. Then there is a tribute to the great Whitney Houston as he covers in Willstyle one of the best-selling songs "Saving All My Love for You". I can't recall anyone even attempting to do this, but with sophistication and class Will Downing accomplishes this task. For his last cover he pulls a Marvin Gaye on us and drops a socially conscious song about interracial dating with the late 60's Bobby Taylor and the Vancouver's "Does Your Momma Know About Me". A timely piece in our chaotic world! One can see that Will has chosen some covers that others would dare not touch and took some thought prior to making his major chess moves.
Also regarding moves he collaborated with Grammy Nominated keyboardist Chris "Big Dog" Davis, on "Till U Come Back To Me" a song where one can get lost in romantic time. A timeless piece with rifts that are symbolic and profound. He even uses his sexy speaking voice. One can visualize waiting for a loved one's phone call or text. With the instrumental breakdowns it definitely puts a classic soul spin on this piece. He also collaborated with singer-songwriter Gordon Chambers and music associate Mike Logan on the Rural Jazz genre, "Deep As The Ocean " which features exceptional violinist Regina Carter. In addition to attaching new collaborators to his roster Will added Aaron Marcellus and Producer Shedrick Mitchell who wrote two of the six original songs, "Run Away, Fall In Love" and "It's Real". A song full of catch phrases tailored with rich orchestral arrangements.
The pre-released single "I Could Never Say No to You" has a smooth echo effect, is very sensual and makes WD Chocolate seem like Mr. Right who will do everything within his power to soothe your appetite. His writing style is so on point that it almost seems like he intimately knows the makings of a woman. We can see why this song was released as the first single of the album. One can easily feel and ride on the Will Downing creative high as he expresses himself as CEO of his own Sophisticated Soul Records label. If you don't believe me simply indulge in a taste of Chocolate Drops which gets a 4.5 star rating! Currently Will is doing the Jazz festival circuit so be sure to catch him when he visits your city.
Chocolate Drops now available – ITunes.com, Amazon.com & Cdbaby.com!
LA Virgil – lavirgil2010@gmail.com