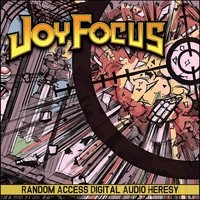 "Random Access Digital Audio Heresy" is a whole-hearted album full of optimism. JoyFocus takes a look at optimism from years of experience and hardship, not from naiveté. Colors of the sound are magnificent ranging from driving rock to chaotic unwieldy beasts. What weaves these songs together is Holly's powerful voice. The songs work together to create a sense of enormity. Many of these songs feel positively gigantic. Volume is a must across the entire album as these are songs that deserve to be blasted.
"Retreat"
https://www.youtube.com/watch?v=QK4Y6qMNlOg
Synthesized violin scrapes introduce the opener "Retreat". Repetition helps the song build up until it forms into a comfortable stomping rhythm. Defiance flows out of the lyrics from the impassioned delivery. Moving slower and taking a dreamier approach is the expressive work of "Gone". Pitch perfect is the infectious pop of "Words". Glistening synthesizer helps add an additional reflective element into the overall mix. Wasting no time is the burst of energy of the aptly named "Revolution". An aggressive tone defines the song as it burns through its running length. Taking on the meditative is the calmer spirit of "Clearly". Here JoyFocus includes a great variety of electronic flourishes within the piece. On "Satellite" a theatrical sensibility is infused within the track's DNA. Bringing things to a close (and maintaining a somewhat cyclical sound) comes the return of the synthesized violin scrapes that introduced the album.
Audio Listening Link:
https://soundcloud.com/joyfocus/sets/random-access-digital-audio
JoyFocus's insistence on building a narrative within the album works wonders and helps to it gain greater emotional impact.
Posted by Beach Sloth