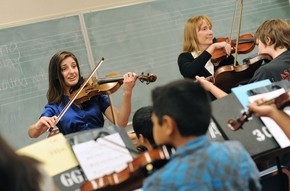 The music industry is extremely competitive. While the average studio musician makes upwards of $60,000 per year, many professional musicians struggle to make half that while living in some of the most expensive cities in the country. A bachelor's degree comes with a hefty price tag, and musicians must be able to make a living outside of playing with part time orchestras and for studio gigs. If you're currently a music student, consider the following six reasons why you should consider teaching as a career:
Stable Income
Just like any other teaching position, teaching music offers stable income. Because teachers are often government employees, they receive monthly paychecks and are always eligible for yearly pay increases. An online master's degree in music education can increase your chances of getting a teaching job and a higher pay rate.
Excellent Benefits
Music teachers also enjoy excellent benefits that are provided by the government, including health and dental insurance, life insurance, regular holidays and summers off, sick pay, vacation pay and more. Professional musicians often enjoy a large amount of days off during the year, but don't receive compensation if they don't play gigs.
Job Stability
Job stability is a huge factor that plays into the decision of becoming a teacher for many professional studio musicians. While playing gigs on a regular basis can be enjoyable, the looming fact that unemployment might be around the corner can make for some depressing days. After a certain number of years, music teachers receive tenure from their districts. Tenure ensures that they remain employed for years to come barring some specific reasons for termination.
Retirement Benefits
Most professional musicians join a union that guarantees them retirement benefits if they pay their dues and continuously play gigs. The amount that a musician will receive in retirement is the big question mark for independent musicians. School districts offer similar retirement packages that other government employees enjoy. While the number varies, many teachers receive up to 70 percent or more of their highest paid salary year in retirement, especially if they've been teaching for a long time.
Flexibility for Private Music Teachers
Emphasis is being placed on music education on a private level because parents are pushing their children to learn a musical instrument as a means to enhance their learning abilities at a young age. This demand for private music education has led to the need for private music educators. Private music teachers normally have a set number of students they see on a regular basis. Parents are charged on an hourly basis and students are normally seen once or twice a week. Flexibility in setting your own schedule is attractive for many musicians because they can use the lessons to compensate for lost income when they lack an adequate amount of gigs.
Job Satisfaction
While teaching young students how to play an instrument can be stressful at times, satisfaction comes when your students perform a concert or play a solo piece in front of an audience. The amount of hard work and dedication that was put into preparation will help you appreciate the respect they have for you and the music itself.
The satisfaction of doing what you love is important to a happy life. A guaranteed salary, however, often outweighs that satisfaction. Music students should consider becoming music teachers full time while playing on a part time basis at night or on the weekends.