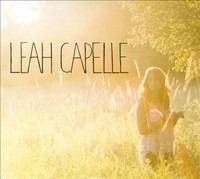 Chicago native singer/songwriter, Leah Capelle, is one to watch after releasing her first EP. Capelle is no stranger to the music scene as she has been writing songs, singing and performing from a young age. She later attended Berklee College of Music to pursue her passion for songwriting and performance. Both her natural talent and training shine on this EP, as all of the right elements come together to make a lovely collection of songs you'll instantly like.
Capelle's voice is one of my favorite parts of her music—a talent that is rare for many artists today who tend to capitalize on elements like style or production to compensate for vocals. But Capelle's pure yet versatile voice is one of the things you'll notice first on this EP because it is genuinely good. The purity of her voice is refreshing, and even though she mostly keeps it simple, she has an impressive range and doesn't shy away from using it. Capelle's voice and music remind me of contemporary Sara Bareilles, with the style of artists like Natasha Bedingfield occasionally coming through, and the vocal ease of artists like Colbie Callait.
Another component of Capelle's EP that caught my attention right away is her knack for writing guitar music. It's how she leads into the EP in her very first song, and it gets you into the mood of the album. Her guitar-playing has a way of creating a fun and catchy rhythm that goes hand-in-hand with the style of her voice and lyrics.
An element that is also lacking in the music of many artists today is great song-writing. This is another element that Capelle nails in her EP. Again, even though she focuses on pure and simple, she does not shy away from getting a little more complicated lyrically and adding a dynamic flow to her songs. My favorite song on this EP is "Would You Know," which demonstrates this ability to write an upbeat, catchy song with different features coming into play—like Capelle's voice, guitar playing, and background vocals—without over-powering.
On songs like "In a Boat," Capelle shows a more gentle side with a haunting melody played on the piano and the artist's lovely higher notes setting the tone of this melancholy song vocally. This song is stirring and conveys strong emotion, showing the artist's ability to write powerful tunes whether soft or upbeat.
Leah Capelle shows a gift for song-writing and singing that are uncommon and refreshing today. With her ability to create beautiful music in such a vibrant and versatile way, she is a star on the rise!
4/5 Stars
URL: http://www.leahcapelle.com/
Review by Christen Johnson