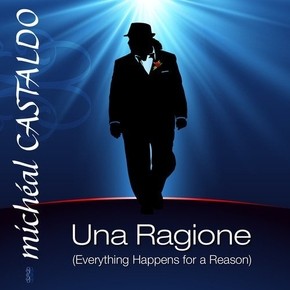 Vital Records will release renowned Italian Artist/Producer/Songwriter Michéal Castaldo's next digi single, "Everything Happens for a Reason—Una Ragione." This offering, produced by Michéal Castaldo's production company Majestic Castle Music, includes multiple mixes of a song written by Billboard-charting writers Mike Greenly (ASCAP) and Paul Guzzone (BMI), with Italian lyrics written by Michele Castaldo (SESAC). The single's digital release date is set for May 5, following initial radio campaigns that span the globe. It will be available on Amazon, iTunes, Spotify, and other digital online music e-tail stores worldwide.
The English version, "Everything Happens for a Reason, will be serviced to all Adult Contemporary Christian Music radio stations in the U.S., Canada, UK, New Zealand, and Australia. The Italian version, "Una Ragione," will be serviced to Italian radio stations worldwide, and the bilingual versions will go out to the radio stations playing hits in their respective languages. Taking a cue from Disney, the song will have over 30 lyric videos, many of which will have subtitles in various languages, including Persian, Spanish, Afrikaans, Polish, Japanese, German, Hebrew, Norwegian, Czech, Portuguese, Hindi, French, Turkish, Chinese, Swedish, Russian, Romanian, Serbian, and Danish. A lyric video in International Sign Language is also in the works.
Castaldo initially wanted to release the single as a mystery artist, keeping his identity under wraps because, he explains, "I'd like the focus to be on the song and its universal inspirational message to take things in stride, remain calm, be positive that all will be okay, and know that everything happens for a reason, even if we don't understand that reason immediately. That's why I'm releasing it in multiple versions and linguistic/stylistic mixes—to help the widest possible audience be touched and affected by this beautiful and meaningful song."
Castaldo, who resides in New York City, has become synonymous with authentic Italian experiences and products for Americans in love with Italian culture. As a vocalist, he has toured North America and Europe, including performances at Carnegie Hall, Lincoln Center, the Rainbow Room, Shea Stadium, Toronto's Queen Elizabeth Theatre, and Italy's Teatro F. Cilea and Pescara Opera House.
He began singing in church when he was 9 years old and went on to study music at Berklee College of Music in Boston. His passionate performances consistently transport audiences to his native Italian world of beauty and sweeping romanticism. His loyal fans truly believe his voice has healing powers.
Many of Castaldo's fans have supported the worldwide radio promotion of Everything Happens for a Reason—Una Ragione by sharing their passion for this song via social media. Several of his "super fans" have even participated in a private fan-based crowd-funding campaign, and as a result of their financial commitment, these super fans will enjoy a profit share of the artist's royalties.
To listen to Everything Happens for a Reason—Una Ragione, click on the links below and view the lyric videos.
English Version, Everything Happens for a Reason (Original mix) Lyric Video:
https://www.youtube.com/watch?v=5BQzvff5fFQ
Italian Version, Una Ragione (Barcelona Coffee House mix with strings) Lyric Video:
https://www.youtube.com/watch?v=DBikYiAeIHQ
English-Italian Version, Everything Happens for a Reason—Una Ragione (Thunder mix) Lyric Video:
https://www.youtube.com/watch?v=ceUaJeL4zSI
Spanish Subtitle Version, Everything Happens for a Reason Lyric Video:
https://www.youtube.com/watch?v=9PpFc25S5CQ
For more information regarding Michéal Castaldo and his music please visit http://www.michealcastaldo.com.