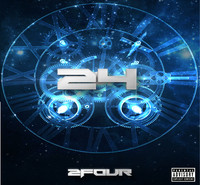 Get ready for this one! This new mixtape is being reviewed just slightly ahead of the release; 24 officially drops on May 5th, 2015 and we might very well see another future superstar declare their time with audible authority once this dynamic set of rhythms & verse hit the streets officially – tomorrow! So why not try and have one on the entire world while we can and listen to this captivating mixtape before the rest of the planet starts talking about all-things-2Four.
No bullshit dear readers…this guy starts out quickly displaying intense microphone-skills as 2Four delivers the verse on "Blackout." And the beat! I do NOT possess the words for just how addicting the music of this song is. Led often by piano and electro effects, the music provides a full-on playground for 2Four to swing from bar-to-bar as he lets us all know he's in this for REAL and leaves no room for doubt early on in the mixtape's beginning. This has style, this has excellent lyrics that fit perfectly to the beat…and really just an insane amount of hooks that pull you into the music.
If you're into artists like T.I. or Wiz Khalifa – get yo'self some of this!
"Can't Stop Now" has an awesome good-time vibe to the flow and uplifting feel to the music that takes you right into this party. And much like the modern giant that Khalifa has become through his music, you'll find a similar vibe that still finds a way to emotionally connect with you on this single-worthy tune. 2Four delivers with tone, melody and a flawless performance that leads perfectly into the chorus sample; he's got himself one massive, massive hit here.
Followed-up with "Full Speed;" this is a track that certainly tells no lies from the title. 2Four blazes rap-verse through the intensity of this beat and absolutely lets the words fly out into the microphone. He's not dragging syllables or anything, this is literally "Full Speed" and he's just CRUSHING this track with verse that's unbelievably fast-paced, yet the lyrics and vocals are coming across cleanly and clearly. I don't think that's going to help you rhyme along whatsoever with this track; just because you can hear the words definitely doesn't mean just any dude out there could do this – they flat-out couldn't. It's really rare to hear a rapper hit both the speed and clarity with the precision that 2Four is on "Full Speed."
Even though the following cut "Real Love" breaks out the somewhat softer-side of 2Four, this guy is still going full 'beast-mode' and laying down bar after bar of flawless verse. Excellent hook in this track as well…the chorus works brilliantly with a melody that everyone in the crowd can sing along with. Not too sure about the bridge, though I was pleased to hear the attempt made; you don't often hear those in hip-hop. Whether or not it works 100%, well, maybe/maybe not but it speaks to the innovative and creative ways that songs are being put together in the 2Four camp.
What I really like is how well he matches energy, tone, mood, lyrics and beat all together. "Hardcore" is a perfect example of what I'm talking about as he leaves the sentiment behind and gets all kinds of gangster for a minute or two on this low-end beat. It definitely has a hard pulse, rhythm & ride through this lyrically-aggressive cut towards the end of the mixtape, and becomes one of the most distinct tracks for its menacing tone and departure from the overall sound of what we've heard to this point.
Now…that being said…I liked "Hardcore…" BUT…I mean, if I'm being honest here…it's hard to ignore the fact that songs like "Can't Stop Now" and the final track "Arrival" sound exactly like where 2Four is at his most comfortable and making music that can't help but to be loved and turned up. "Arrival" really amps up the energy once more before this mixtape finds its exit with a bright electro-induced beat that springs the uplifting spirit back into the mix after finding its way into the dark with "Hardcore."
You get a great mix of great ideas here on 24 and I can only imagine an emcee as qualified as this one is has a whole bunch more just waiting to be recorded. Loved the enthusiasm and performances on this mixtape and really feel like these are skills that should certainly be noticed.
Find out more from his official page at: http://www.thereal2four.net & http://www.facebook.com/TheReal2Four
BY JER @ SBS – http://sleepingbagstudios.ca