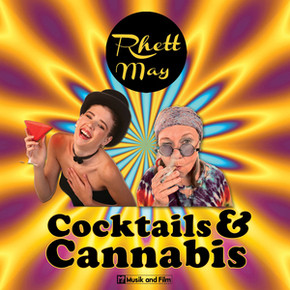 Rhett May knows a thing or two about making a kick-ass song & video as he has deep musical roots that date back to the 1960s. Music is in this man's blood and in particular rock & roll is a key part of Rhett May's DNA. "Cocktails & Cannabis" epitomizes the famous tag line and stigma that's been attached to rock & roll music for generations which is of course: Sex, Drugs and Rock 'n' Roll. The song was actually written about a woman Rhett knew who consumed alcohol and drugs in excess. Overindulgence was met with partying hard and playing harder for this fast-times, three-sheets-to-the-wind kind of lady.
"Cocktails & Cannabis"
https://www.youtube.com/watch?v=wcvR0kWHSKY
Rhett has created a scene here that is full of hot, steamy, sexy fun thanks in big part to the blonde bombshell in the music video. This pretty woman in the video will knock your socks off with her seductive moves and killer look. The "Cocktails & Cannabis" video includes imagery that is of a sexual nature which pops out at you right away, but that's just part of the picture. The other part is the sound which offers up a cool 'n' catchy rock groove that's hypnotic and catchy beyond measure. Rhett adds a nice, classic touch here with psychedelic elements where "Cocktails & Cannabis" is free-flowing and easy-going. The style here also exhibits a sort of edge and rawness that Rhett May delivers vocally and musically. And don't worry, you don't have to be in Colorado or Washington or even 21 to enjoy this finely-crafted concoction that's delightfully refreshing.
"Cocktails & Cannabis" is the life of the party where Rhett May is your chaperone and designated musician for the evening. And you don't want to miss this party because the music video/track is overflowing with intoxicating flavor that will leave you feeling high on life. Check out the video right here: https://www.youtube.com/watch?v=wcvR0kWHSKY that now has over 6,500 views on YouTube.
Now enjoy yourself as you soak in "Cocktails & Cannabis" in its entirety; you won't regret it now, later or in the morning.
By Jimmy Rae (jrae2@at.net)