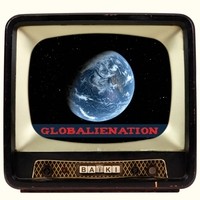 GLOBALIENATION displays the best of calculated angular rock. Baïki possesses a clear edge to their music. This comes across in their urgently delivered music. Embedded within their lyrics is a message of social justice, a desire to create a more equal society. Nicely matched up with their frantic energy the overall sense is one of freedom. Songs are kept at the perfect length concise while exploring a great amount of territory. At times Baïki strongly resemble the brash sensibilities of The Clash.
"Walk The Line"
https://www.youtube.com/watch?v=KOh3UCSYnPs
"Le glaive et l'auréole" begins the album on a steady grind. The vocal delivery is impassioned. How it powers on through shows off their rather chaotic approach to song craft. By far the highlight of the album is "Walk the Line". One of the few songs sung in English the song shows off their direct approach. Incredibly catchy the song is pretty sarcastic. Immediately following this keeping up the high level of tension is the longing spirit of "En Rose". With a raw delivery introducing it the piece builds up chugging along until it finally reaches a perfect climax of sorts. Finally taking a breather of sorts "Qu'est-ce que j'lui dis ?" moves the sound into a casual groove. With "Rhyme Sacrifice" Baïki create one of their most accessible pieces on the entire album. Showing off another side of the band is the Momus-flavored minimalism of "Except To Humans". Keeping with this starker sound they end with the impulsive "Pet Peril".
On GLOBALIENATION Baïki show that punk is still vital.
http://www.baiki.be/
https://www.facebook.com/baikiglobalienation
Posted by Beach Sloth