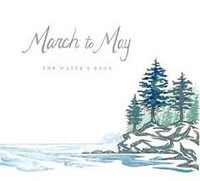 A uniquely blended culmination of a journey's beginning.
Haunting melodies, and classic strings with a calibrated seduction gives way to the lingering mist of the fjords, and soars us up and over the high reaching Andes. Musically, leaving the listener breathlessly entangled as a lover exhausted and content, March to May debuts their first EP, The Water's Edge.
The gypsy soul, and the well-worn vagabond heart lends itself to the chemistry blend of lead vox, guitarist, keyboards- Darren Guyaz, and his equally enchanting partner- Celtic Harpist, Vox- Beth Wesche. Traveling, learning, neither cognizant of their own musical talents and drive. It took time well spent in the Andes, with a bottle of Chilean wine, and a coming to call Seattle home- to bring what was passingly separate together, and a fire well lit. Time along with fate can be serendipitous and the outset of musical realization… is now unequivocally mastered.
The Water's Edge has enfolded magic into the cylindrical arms of notes, six songs, all a bit different from one another. Charming, ethereal, beguiling, emotive… powerful. Georgia, opens with a sweet twang, showcasing Beth's vocal artistry and harmonizes splendidly with Darren. A tune with a blissful pulse, that lingers along the back dirt road's of Georgia.
Their first video, Embers, is magnificently captured in summer sounds, and a burning love of what was a moment, haunting as love fades away. Count the Days takes you on a long highway drive where you watching out the window as the world passes by all too quickly, and your destination feels like an eternity. A gypsy Italian wanton gives the guitar and Celtic harp mesmerizing desire in, The Monk and Lover, "Take these lonely sounds…And hold them tightly in your arms…, " a song spent as aged vino, intoxicating to the body, mind, and soul. The words flow soft and easy to the tick,tick,tick over, Falling Down, as Darren's vocals reach within the soul and hold time. Crazy Universe, brings the debut EP for March to May, to a close. Not an end, but a special collective is married, and birthed letting the gentleness of a lover's kiss call for for more.
Why does it sometimes take a long journey for a flow to connect itself and the blissful to create the chemistry of elation? The why's may never be known, but the journey to what is, has been worthwhile. The love of what Darren and Beth have created is emotive, powerful, and strong… they've created, The Water's Edge, and it is uniquely the culmination of all they've collected along their way.
Website: http://www.marchtomay.com/
Michael Drake