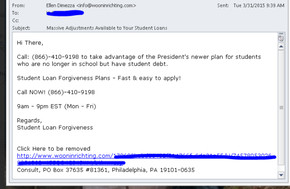 Fast and easy forgiveness of your student loans! Sound too good to be true? That's because it is. Watch out for scams that entice student loan holders by promising to erase their debt.
How the Scam Works:
You get an email or spot a post on social media that claims a company can erase your student loan debt. Many claim that their service is made possible by a new government program or policy. See one example below.
The company asks for an upfront fee to negotiate with your student loan lender on your behalf. They will claim they've helped numerous other clients, but don't believe them! Student loans can only be forgiven under specific circumstances, and it's not fast or easy. These scammers will take your fee and disappear.
In another version of the student loan scam, con artists claim that they can save you money by consolidating your loans. Some charge a fee for using a free government service. Others may actually move your loans to a private lender with a higher interest rate.
How to Spot this a Student Loan Scam:
Never pay upfront. Real lenders will take a percentage once their service is complete. You don't need to pay an upfront fee beforehand.
Know your options. If you are having trouble paying your student loans, contact your lender directly. You should research programs offered by the federal governments of the US and Canada.
Never give a 3rd party power of attorney. Don't sign anything giving a company the power to negotiate on your behalf. A scam company can use this to take control over your loans.
If it seems to good to be true… It probably is. Any company that claims it can erase your student loan debt in minutes is lying. Don't bother responding to the ad or email.
http://Studentaid.ed.gov for United States
http://Canlearn.ca for Canadians