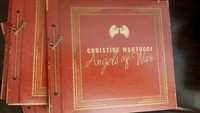 As a 9-year Army vet, Christine knows a thing or two about serving her country proud but music also runs thick through her blood. Standing in the front lines as a 5-Star Music General, Ms. Martucci is firing off her 4th CD titled 'Angels of War'. Prepare to surrender to the powerful sound Christine brings to the ranks as she commands the mic & air space on 'Angels of War'.
"Come Inside"
https://www.youtube.com/watch?v=MIo0iT-N5D4
Right from the start on the title track you sense extreme passion that is very sincere & personal where Martucci is singing with an overload of feeling & emotion. Coming from a deep place inside, this artist sings with such heart & conviction. On track three, "Come Inside", get lost in the clouds with a soft, delicate touch and then enjoy some flavorful soul on "Easy". On song five, "Here I Am', the guitar, harmonica & vocals come together brilliantly with an overall sound that pierces right through you. Tap into a catchy verse & chorus that will have you clappin' & singin' along on "Piece of Heaven" and then get ready to reach for the sweet stars & stripes on the musically rich closer "Free Sweet Freedom".
Christine Martucci has such a raw & pure voice that catches your attention right away. This singer/songwriter/musician is on a mission to showcase her talents to the world in Operation 'Angels of War'. This record is shining bright and blasting off for all to hear! Christine is having a CD Release Party on Saturday, April 4 at The Stone Pony in Ashbury Park, NJ. If you're in the area then you won't want to miss this exciting event where 'Angels of War' will be on full display. I salute Ms. Christine Martucci and her rock-solid efforts on this new release.
http://www.christinemartucci.com
Facebook: www.facebook.com/christinemartucci
Twitter: www.twitter.com/christinemartucci
5/5 Skopes
By Jimmy Rae (jrae2@att.net)