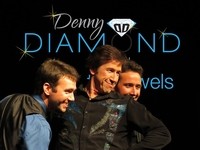 Denny Diamond & The Jewels is majestic on "Diamond Mountain EP". The sound is large and all-encompassing. Passionate delivery defines the EP as it unfurls at a languid pace letting the small flourishes of sound bloom into bright bursts. Remarkably colorful in terms of texture and lyrical content these are songs that soar ever higher. Optimism flows through the pieces as Denny Diamond's reassuring voice serves as the focus. From his initial delivery the rest of the songs form.
"Diamond Mountain"
https://soundcloud.com/dennydiamond/diamond-mountain
"Holly Holy"
https://soundcloud.com/dennydiamond/holly-holy
With the title track of "Diamond Mountain" Denny Diamond & The Jewels set the mood first. The song starts out sounding raw with only a voice and guitar. Gradually Denny Diamond's voice begins to grow in intensity. Each additional emphasis starts to bring in new elements into the mix letting the sound grow to become something quite large. Almost cinematic in scope the classical elements (the percussion, the strings) add a sense of grandeur to the proceedings. Wisely the song knows how to alternate between these two extremes, between the intimate and the gigantic. "Holly Holy" takes a different approach. A Western Twang introduces the song. Denny Diamond's voice takes on a more rock-orientated approach. Much louder the song has a brash, exuberant approach to its craft before it builds up into a fevered pitch for its final stretch.
Full of heart "Diamond Mountain EP" is an EP that is earnest in its intentions. Warm, colorful, and comfortable Denny Diamond & the Jewels prove the power of pop music.
http://www.dennydiamondandthejewels.com
Posted by Beach Sloth