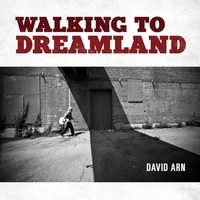 This somewhat mysterious singer-songwriter from the East Coast just released his latest 10 Track CD entitled "Walking to Dreamland" in 2014. Overall Internet presence is slowly taking shape as I learned a few things about him even before I hit play. The CD hits the deck running with a strong "Walking to Dreamland" title track It's a somewhat intoxicating and striking stance reminiscent of Lillium and Stuart A. Staples. The multi-layered beat/voice/guitar combo are well paired with his songwriting skills makes for a strong culmination of skill sets. The beats on these opener are heavy and thick nonetheless. Lyrics and music are very well thought out/put together. I was instantly hooked to keep listening. Subject matter is equally tied to musical setting and delivers well-crafted vocals and emotional tranquility. Equal parts heartfelt emotion and soaring guitars, Arn paints images in creative, yet relatable ways. It's evident to the ear that much time has been invested in crafting each song to stand on its own, separate from the next. The overall mix of this album is impressive. It refuses sounds like a bare-bones PC recording, or even a live performance.
This is a high end production any way you look at it. Arn surrounded himself with some impressive players I might add. This contributes to the overall impact of the album. I do however have a few complaints, if they can be called that. This is a CD for a certain type of listening mood. I would not recommend you listen to some songs on the day you get fired. As I made my way from start to finish, there is a near-extreme tonality that was definitely palpable but unorthodox in nature for the vocals. However as the song moved it was constant and similar in consonance. Bottom Line: I wish the vocals were more explosive or emotional at times. Most certainly Arn has a knack for crafting imagery and instrumentation to complement his vocal style, which made it so surprising there was such little use of minor and dissonance. Vocally I can only describe it as a Production "underdose" when I want an overdose of that type of intensity that needs to be at the head with the guitar. He's not the most melodic singer I've ever heard. It's shall we say too conservative and as a few songs need more melodic structure. Arm needs to improve his melodic hook paraphrasing. I found myself painfully longing for something else to happen within each movement. Not a bad thing, but based on the solidness of the song textures, I was expecting much more vocal melodic variety. I doubt any of these songs will be ringing in your head. Although not overly distracting, his voice was indeed likeable but didn't completely fit with the rest of the song and strengths.
Overall, this is a very impressive release by Arn. It was an absolute pleasure to get into his mindset and take it all in. It will hold a place in my fascinating and dark play list when I really need it. By the way my favorite track is a toss-up between ""Better Off Today" and "The Last Word." David Arn is a master at bringing together all the flavors of many different musical styles and genres. He will remind you of Tindersticks, Haustor, Mick Harvey and Pink Floyd. Arn is armed with great writing, a brilliant creative mindset and a rich life experience to share with the world.His music is highly original and will no doubt evolve over time into something truly groundbreaking. All of this makes a guy like David Arn a much welcomed and unique artist in an overly cut-and-paste industry.
Final Rating: 7.5/10
MJ Sauls