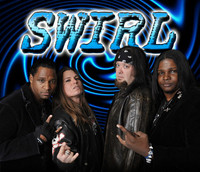 Swirl has an incredibly loud brash sound, the kind of sound plenty of bands promise but few deliver. A rare beast indeed Swirl demands to be played at the absolute maximum volume. They do not let up: their energy persists from the first second to the final moment of the collection. For their sound is physical it literally assaults every possible sense. Nor do they believe in a buildup at all: the songs start out fully formed, already in progress.
SWIRL "Rise Up" Lyric Video- http://www.youtube.com/watch?v=_JVm9uFo9Eo
"Fourth of July" starts with drums and guitars already swinging. The vocals rise above the sense of reckless abandon Swirl employs. Full of hot heat the song feels like the sort of thing that makes someone sweat. Opening with a taut bass line is the rush of "Spell". Burning through the song embodies defiance. Distortion defines "Rise Up" whose tension is quite palpable. When this tension is finally released it feels earned. A rush begins the frenzied activity of "We Are Alive". By far the best track on the collection it finds a comfortable groove and amplifies it to the skies. For "Message" Swirl explores an arena-sized sound, as the piece grows ever larger. Bringing things to a satisfying conclusion is the passionate "Mad Disease (Sleepwalker)". Lyrically the song matches their riffing madness.
'SWIRL' on iTunes- https://itunes.apple.com/us/album/swirl/id627466984
The songs on Swirl display their undeniable chops. Everything blasts forth with such enthusiasm, harking back to an earlier, more heartfelt kind of rock. With a crazed look in its eyes, Swirl is bristling with an infinite number of scenarios and it executes them perfectly.
Posted by Beach Sloth – http://beachsloth.blogspot.com/