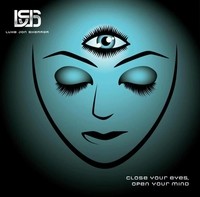 The great artists out there offer listeners something that can be awe-inspiring. This artist based out of Australia fits well into Sonic-Pop category with his 2015 release entitled "Atmospheric Disturbances."
Project consists of 1 primary core member: Luke Jon Shearer. This CD "Close Your Eyes, Open Your Mind" keeps on going and the passion remains all the way until the end. His rather simplistic, almost under bearing musical personality, infectious style, insurmountable talent and zest for life is more than apparent on this latest string of songs. Shearer is no doubt is driven by a passionate, direct approach that make up for something more than just a skilled instrumentalist. When Shearer sings his songs, he's not trying to hard or worried about getting those notes out to you, about keeping up with things that he can do effortlessly, anyway and other technicalities, but he focuses on the feeling. Music is first and foremost an expression. It's about the energy that gets released in a room, when musicians can create just that perfect vibe, that feel and that charisma, which in a moment feeds back to the audience, whose response goes back to the band, just like a spark. What you hear is a controlled full-range voice with power, sweetness, tonality, flexibility, smoothness, and style that makes you believe your hearing a professionally recorded CD. With his voice, Shearer is able to express more of his true straight forward melody as he does with other instruments.
Influences to me sound similar to: UNKLE, Groove Amanda, Enigma, Orbital and Tricky.
Although this is not my first choice for musical style – there is no denying this CD personifies life, and personifies Shearer's spirit as the title to rightfully implies that something that goes deeper spiritually. All of these factors make this debut CD an absolute pleasure to listen to on lazy days with nothing on the agenda. Track 1 "Black Rain" and my favorite pieces "Peace on Earth" and "To The Moon" are on the first half of the album and start things off with an amazing blend of Sonic Pop and Singer/Songwriter style. Music is extremely cathartic, surreal, and relaxing. This is especially true now that the summer is winding down and as the leaves will be beginning to fall. Some songs have cold to the touch overtones "The Dark Poet" while others ring true like "Love" and "Fearless." These last 2 pieces move flow across the senses with a truthful conviction providing musical meandering teetering on brilliant. Getting back to "Peace on Earth", to me is almost a love inspired ballad – don't ask me why. This song highlights all the playing and is in itself a tranquil piece but stays strong with his powerful playing. I especially like how many songs within this 10 track collection flow so naturally like a river or stream.
Vocals from Shearer are a bit repetitive. He needs to step out of the "sonic" spotlight and sing a few song bare-bones.
Kudos goes out to the behind the scenes work from Luke Jon Shearer. Guitar work is amazing and the production effort really brings it all together. Shearer is a respectable singer from down under that delivers thickly laced melodies that go down smooth.
CD BABY: http://www.cdbaby.com/Artist/LukeJonShearer
Score: 7.5/10 Stars
Primary URL: https://www.facebook.com/Lukejonshearer
Evan Lawrence