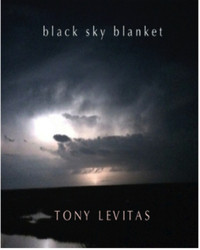 Tony Levitas is in a jovial mood throughout "Black Sky Blanket". Playing the songs through a nostalgic filter the songs possess a keen sense of warmth. By keeping the pieces relatively low key Tony Levitas explores the quieter impulses in life. Day-dreamlike in tone the pieces are well-crafted pieces of art. Lyrically the songs convey an overall sense of optimism. Full of hope the songs move forward happy to simply exist. Whether celebratory or longing the works have great color in them from the expert guitar work to the funky keyboards.
With the title track "Black Sky Blanket" Tony Levitas presents himself at his absolute best. Incredibly catchy the song has a playful sensibility. Each element is perfect synced up: from the rhythm to the backup vocals to the Sunday afternoon groove. Harking back to an earlier era in rock the song feels straight out of the seventies. Complete with harmonica the down home charm of "Thank You" is obvious from the beginning. Using a country vibe the song serves as yet another example of Tony Levitas's uncanny ability to weave together a variety of musical genres into a single album. Experimenting with more electronic textures is the Beck-inspired work of "Right Here With You" whose hazy delivery makes it one of the stand-out tracks in the collection.
"Black Sky Blanket" uses its retro leanings to show exactly how to build upon the past while moving music forward into the future.
http://www.reverbnation.com/tonylevitas
Facebook (Tony Levitas) and Twitter @tlevitas
Posted by Beach Sloth – http://beachsloth.blogspot.com/