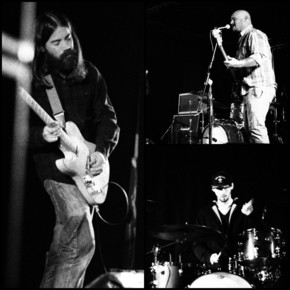 Mount Carmel from Columbus, Ohio is a blues rock trio with sounds from the 70's but with a fresh current taste and original hooks. It must be their respectful love for the music of that era that influenced them to remake and refine sounds from decades ago into something I can certainly relate to. Their music reminds me of great musical times in my life and at the same time has their own modern style with a "Get Pure" solid rock influence.
In 2010 they released their first self titled album "Mount Carmel" and in 2012 "Real Women". In 2014, they released their third album "Get Pure".
Tell me about your music….
We try to play rock and roll music and not to over-think it.
What brought the band together?
Originally it was two brothers and a dude just playing the music they needed to play. Now it's one brother and two dudes.
Who writes the songs?
Mostly Matt comes up with the ideas and everything gets fine-tuned from there.
Who were your biggest influences?
Zeppelin, Cream, George Michael, Peter Green.
When did you start performing?
2007
What CD's do you have out and where can they be purchased?
The first one is self titled, Mount Carmel. Second one is Real Women". They're around on iTunes and maybe other corners of the internet. The most recent record on Alive Naturalsound Records is "Get Pure". You can buy it on iTunes, Amazon, Google music (if that is a thing) and all sorts of little record shops.
Any new projects in the works?
We are working on a new record now. We have a new bass player/singer in the band named Nick Tolford. He sounds like Tony Montana on steriods.
Mount Carmel is:
Matt Reed: Guitar/Lead Vocals
Nick Tolford: Bass/Back-up Vocals
James McCain: Drums
Link for music: http://www.alive-records.com/artist/mount-carmel/
You Tube: http://youtu.be/7Zv7hB0qtoY
Facebook page: https://www.facebook.com/mountcarmelfans
Photo credit Eric Cronstein