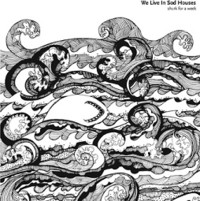 We Live in Sod Houses latest release "Shark for a Week" yields a dynamic, diverse collection of thirteen tracks that beautifully fuse punk and alt-rock. At the same time, they enlisted the help of some high-profile folks to round out their sound as listed below.
Dustin DeBoer- Guitar& Vocals
Rachel DeBoer – Vocals and Percussion
Josh Rieck- Bass
Steve Carlson – Drums
Mixed by Larry Crane at Jackpot!! Studios in Portland, Or & Mastered by Garrett Haines at Tree Lady Studios Pittsburgh, Pa.
Cover art designed by Elizabeth Munger.
Band defiantly sounds like "the White Stripes, The Raconteurs, The Black Keys, The Von Bondies, The Dead Weather, and The Hives.
Some feel solid musicianship is a dying art form in music as Power Pop and Rap dominate the airwaves with music that is for the most part – well not very real. But regardless of how you feel about Pop, or even Rap strong musicianship has remained strong and resultant over the years primarily in Punk, Alt Rock and R&B. However I must admit there is a resurgence of this type of music in bands like Dave Matthews Band and even The White Stripes. As a result its subsequent movements cannot be denied its place in our world.
So I'm willing to give "Shark for a Week" a fair shake. Clearly one the more inspiring stories stemming from the Iowa. In fact this is the first band I've ever reviewed from that state. I get the impression these two has been making a name for themselves around the area with their soulful sound for some time. I mean to write an album like this – it takes time and I don't mean the time it takes to record it either. It takes time to develop and capture some of that magic on tape via rehearsal and writing sessions. The end result is lighting in a bottle, and yes they did it perfectly. The cover art renders a psychedelic first impression. This album is oh-so appropriately titled and is a true to form return of good Psychedelic Rocked out writing style wrapped around catchy playing style with a hooky feel that flows. It's passionate, intricate music but goes well beyond decent chops. You can tell 2 minutes into Track 1 "Love Them Hate Them" via the seamless timing, fun simplistic rock vibe you might be in for something truly special. Track 2 "People" should be a song featured on a Future Film or MTV show. Every track, every arrangement, every note on this demo is seamlessly blend of these four via their musical craft. It's really testament to who these two are as a couple. It's also obvious that there's probably already a growing cult fanbase out there totally in love with these two right now. In fact I will admit I love and respect everything he sings and represents – casual observations about live really. There's also a heavy dose of "WHAT THE F#$%." Attitude via the amazing lyrics that really hit home.
CD is a bit dated sounding, reminiscent of music popular 10 years ago but who cares. Some of this plays into marketability. However building familiarity within this style one walks away feeling like they listened to something a little truer than accustomed. If you're a new or old rocker, then odds are you will love a band like "We Live in Sod Houses". If you not familiar with this style of music will feel yourself become quickly acclimatized to it. In close here's one artist that has the courage to write, play and release music that goes a bit against the modern pop-rock grain but will remind you just how bad modern day music has really gotten. In fact in this age of Kardashian-esqe entertainment.
My top songs on the album are title track, "Love Them Hate Them", "Change" and "Baby."
The Bottom Line It's safe to say much of today's music is made up entirely of these yawning melodies, repetitive themes, and superficial vocals. Some of these intangibles reflect the shallow artists themselves – who can't act like themselves We Live in Sod Houses are not shallow, they are breaking this mold just by being themselves – hey imagine that. I strongly suggest you take a
sample via the below link:
AMAZON: http://www.amazon.com/Shark-for-a-Week/dp/B00LXTWYVK
URL: http://weliveinsodhouses.bandcamp.com/
Julie Delaney