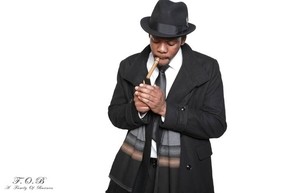 Canada's own Blaze The Fireman is simply on fire with a new EP out titled 'Surviving The Times' with much more on the way! The tracks are smokin', the beats are hot and the rhymes are scorchin' as Blaze burns up the stage. 'Surviving The Times' is just that as Blaze hits you with the truth and real-life struggles that affect us all in different ways at different times. The Fireman has arrived and he is ready to Blaze through the rap world like no other.
J Rae: So I see you're a rapper from Canada and curious as to how strong the rap/hip-hop scene is there? How do you fit into this particular scene and do you plan to make a big impact within the Canadian rap circle?
Blaze The Fireman: It's pretty huge here in the North. You can't go anywhere without hearing or at least bumping into a hip-hop artist. No matter what Province you visit, what city you check out, or what neighborhood you walk in. You'll find a person telling you what they feel like on beat. You ask me how I fit. The thing is I don't. I've created my own lane where I can rap about my struggles and experiences and turn it into a story or rap about what I plan to do in a catchy, entertaining song.
J Rae: Dying to know how you came up with your stage name! Have you ever wanted to put out real fires as a fireman? What's the significance, if any, behind the name?
Blaze The Fireman: It always been a part of me. I was a kid who loved playing with matches and lighters and drew flames in art classes and in my leisure time. I really took it seriously when one of the older guys in the neighborhood called me Blaze and it was history from then on. Have I ever wanted to put out fires No, it was actually the opposite. The significance behind my name is that I've been through so much in my life that these struggles and hardships are the coals of fire I walk through, the flames on the phoenixes back I've endured. Has made me almost immune because I have survived it. Which has now made me the man who walks through fire. The Fireman known as Blaze.
J Rae: I love the hot beats on your tracks and so who handles all of that?
Blaze The Fireman: Well previously I connected with producers to work on past songs and mixtapes but on my latest project "Surviving The Times", Nat Turner handled most of the production and executive produced the EP.
J Rae: Your flow is quite nice and wonder how you developed your style and who do you look up to as far as musical influences go?
Blaze The Fireman: It took a few years for me to develop my sound and flow and get it to where I needed it to be. It took me awhile because I wasn't confident or comfortable with it in the beginning and didn't have the passion behind my voice. Now the music comes from within me and I share that art with everyone who lends me their ear. My musical influence are: Eminem, Tupac, DMX, Cassidy, Juelz Santana, and Joe Budden just to name a few.
J Rae: How do you usually come up with rhymes/lyrics? What inspires you to come up with a dynamite rap & song?
Blaze The Fireman: I could be out riding the subway train or bus or be at home listening to a package received from a producer. I just think it and write it. What inspires me to come up with a dynamite song is hearing a new song from one of my favorite artists or getting a dope beat from one of my producers.
J Rae: I saw that you have a brand new EP out titled 'Surviving The Times' that is actually based on real life stories and experiences. Would you care to tell the Skope readers some behind-the-music details on the making of this record and what it means to you personally? Where can people find more info about the EP and purchase 'Surviving The Times'?
Blaze The Fireman: Basically me and Nat Turner came together and agreed we should work on an EP together, since we put out songs before. It was only right since our styles fit together perfectly with his fire hot beats and my delivery and flow we would be stupid not to. So he would send me his beats and I would run to the studio and send it right back. This one means the most to me personally because of the meaning behind it and where it came from. When I found out my uncle passed away due to lymphoma cancer I knew I had to call this EP "Surviving The Times" because that's all we're doing is surviving, everyday struggles and things that come our way. Everyone is going through something but can we all survive it? People can find "Surviving The Times" on http://www.datpiff.com/Blaze-The-Fireman-Surviving-The-Times-mixtape.669566.html and soon on iTunes, Amazon, Google Play, Spotify, Rhapsody and several other stores. I also have a fundraiser page up on http://convio.cancer.ca/site/TR/UnitFundraisingEvent/General?px=6060389&pg=personal&fr_id=16559#.VITjUdh0zmI raising funds for cancer research in honor of my Aunt Rita and Uncle Bernard.
J Rae: I couldn't help but notice a cool picture of the famous "Sopranos" characters at the top of your Facebook page where you go by Blaze Soprano. As a HUGE fan of the hit TV show "The Sopranos", I am proud to say I own the entire set. Obviously you're a fan too but would like to know if this ties into your music at all in any way?
Blaze The Fireman: It's nice to hear you're a fan as well. It's a really good TV series storyline and all. I'd say a little bit and you'll get that sense when you listen to "Surviving The Times". That vibe comes out in photo-shoots, skits, and music too.
J Rae: So with the new EP out what is next for Blaze The Fireman? Any plans of blazing it on the road and if so would you like to hit it in the U.S. & beyond?
Blaze The Fireman: More music, more music videos, more fire! I've performed in New York and Washington D.C. so I'm no stranger on the other side of the border and will be back to promote the new EP and do more shows in the U.S. & beyond.
YouTube: https://www.youtube.com/channel/UChIP42jMAYAZLg_eEpi2bAw
SoundCloud: https://soundcloud.com/blazethefireman
Twitter: https://twitter.com/BlazeTheFireman
By Jimmy Rae – jrae2@att.net