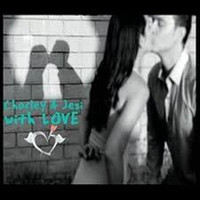 In our modern age of Rap synths and autotune it can be difficult to find the top seeds among the harvest. What makes masters The White Stripes, The Lumineers and Two Door Cinema Club so sought after? Sure they sound good, they look great, the feel is good. But above that they got something else. They got what many in the industry call X-Factor. So what is X-Factor anyway? It's just something deep within their spirit that breaks the mold when compared to other artists. They stand out in a good way and transfer well into the hearts and minds of music fans all over the world. Where am I going all with this? Southern California based musical duo Charley and Jesi have X-Factor and something more———real love. With their new release, With Love they has moved away from the electronic rock pacing of today's modern rock radio noise thus producing 10 hot new tracks that more closely resemble alt-rock of the 90's in terms of musical form. These 2 are no stranger to the business as this is the fourth album to their credit. Looking at everything it would seem as if Charley and Jesi are making all the right moves.
With the impressively lead off tracks "Hurry Up & Take Your Time" and "Please" this CD keeps it real with tasty rock grooves that decree passion, power which exudes love confidence to the masses. 2 more impressive songs are "Better Day" and Better Baby" that go together hand in hand. "Love-In" defiantly worth mentioning, while "No Reply" and "Better Baby" are clearly marketable standouts for me. What's more "Just Wanna Dance' lays down the rocking groove and "Lunar Dream" offers a psychedelic instrumentally rich set with straight forward yet retro Disco sound. This is a bright and feel good CD. Despite this it keeps it real with "I Wanna Go Home" and "No Reply." It's got its fair share of upbeat, cheerful, funkadelic subject matter. "With Love" by Charley and Jesi really demonstrate a deeper side of music and even a sense of love evident through a transparent exploration of yearning and feeling positive about each other. . These are 2 artists brave enough to be true to themselves when it comes to their music. They remind me of The White Stripes meets Sony and Cher. All of the above is brought to life with hauntingly detailed musical layers, steady rhythmic pulsation and addictive vocal persuasion on their latest CD "With Love".
My favorite track is probably "Better Baby" which had the biggest impact on me emotionally.
On all tracks expect an enticing vocal approach from Jesi that is extremely cognizant to the song being played. Theya re both good singers (together and apart) and both has good musical instincts when the record light is on. All things considered, this is a unique and fundamentally sound CD from 2 fun-loving artists from Los Angeles. It's nice to know within the ranks if millions of independent artists some are capable of delivering something special that sticks true within their own style and artistic expression. All the while touching on how powerful True Love can really be via a colorful collection of beautiful, powerful and uplifting songs – I am talking about Charley and Jesi.
Purchase Link: http://www.cdbaby.com/cd/charleyjesi2
URL: http://www.charleyandjesi.com/
Score: 4/5 Stars
Donald Hulbert