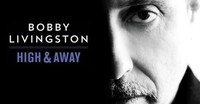 Bobby Livingston's "High & Away" displays a keen sense of storytelling. These songs play like chapters in a life. With each one representative of another phase of life they come together quite nicely to form a fully formed individual. Observations are astute. Here the band proves to be of the utmost importance helping to set the mood for these pieces, whether the songs opt for optimism, depression, or a more maniac energy. Weaving them together results in a coherent enjoyable collection, a collection that tells a life story.
Audio – https://soundcloud.com/falcoz2003/sets/high-and-away
"You Came Alive" sets the tone for what follows: mellow, with Bobby Livingston's earnest vocals, the song takes an atmospheric approach to songwriting. For "Meanwhile in Kansas City" Bobby Livingston moves to somber territory. A busted up heart is the centerpiece of the song as it dwells on the sadness associated with a city and what it means to leave a place. "Beverly" bursts forth with great energy. Virtually unable to contain itself it is one of the sunniest pieces on the entire collection, burning through its run time with gleeful abandon. Moving back into the laid back realm with "Honestly Lies" the song builds up into beautiful organ blooms and a steady comforting rhythm. This flows nicely into the dreamy "Higher Than Heaven".
Ending things off with a great rush of energy is the collection's highlight, the playful "Sun Full of Holes". "High & Away" is an absolute blast of a collection.
https://www.facebook.com/bobbylivingstonband
Posted by Beach Sloth