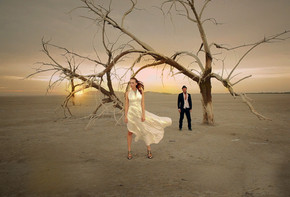 At twelve years old Allison Geddie was already sowing the seeds of what has grown into a love of composing and performing music. Schooling herself on artists like Ben Harper, Alanis Morisette, and Rob Thomas, she picked up her father's guitar and began instinctually writing her own songs. With her single for "Wait," she taken all of the layers of musical vulnerability and intelligent, thought-provoking lyrics to create song with endless possibilities.
To help accomplish the sweeping grandeur of "Wait," Allison has enlisted the help of X Factor UK season 7 finalist Storm Lee, one of the most unsung heroes of the music world with his contributions to everything from Diane Warren to Ozzy Osbourne to performing over 400 songs as a backing vocalist for Glee, to lend a smooth baritone to compliment her delicate soprano delivery. They trade verses with the strength and conviction of artists who have felt the weight of every lyric they sing. When they lock together for the chorus our hearts melt into our stomachs listening to the memorable hook.
The "Wait" video is the logical counterpart to the lush beauty of the song itself. With stunning desert views and sunsets that rival any other, Allison and Storm perform against a backdrop of both day and night in a variety of wardrobes. Through the variety of enticing footage the one constant is the Allison and Storm's chemistry and command of the camera. What we witness is two artists with the hearts and souls of true professionals giving their all for our pleasure and for their own catharsis. As a viewer, it is our privilege to witness it all!