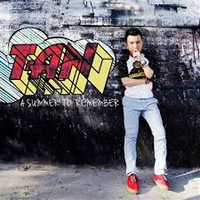 "A Summer To Remember", released March 6th of this year, is the debut EP of Los Angeles based singer-songwriter Tan. Born and raised in Malaysia, Tan always had a passion for music, contradictory to his upbringing and the established norms of success through traditional college education. Tan began his musical career as a child and continued learning by taking online sound engineering classes. Eventually, Tan made the decision to move from Malaysia to Hollywood in order to attend a contemporary music college. For a young artist looking to break into the highly competitive Los Angeles pop scene, Tan has made very important and valuable business connections. This four-song debut EP, entitled "A Summer To Remember", was produced by Mario Marchetti and engineered by Evren Goknar, who combined have worked with artist such as Demi Lovato, Jennifer Lopez, Red Hot Chili Peppers, and Mariah Carey. With all things considered, it appears that moving to Los Angeles was the right decision for this new and hopeful pop artist.
One of the first things that you notice on this EP is that it is obvious that there were experienced people handling the production quality on these songs. This album is very polished and its meticulous engineering is probably exclusively due to the combined work of Marchetti and Goknar. As a very pop orientated album, establishing catchy hooks is essential to the success of these tracks. Tan's "A Summer To Remember" was able to do this a few times. The leading track, "Heat Wave" is the pinnacle of catchy instrumentation on this album, featuring all the common pop trademarks such as a bright and punchy guitar and a solid percussive back beat. All the tracks are decidedly radio-friendly, but "Heat Wave", despite being a little long for a pop hit (3:54), probably has the most potential as a single, and in many ways it seems almost as if aiming for a popular single is exactly the designated purpose for this super produced little four track EP. Tan himself is a legitimate performer and vocalist. A lot of the pop stuff today is often auto-tuned to oblivion and professionally tailored to make mediocre musicians sound respectable, but this is not the case with Tan. The greatest quality on this album is the fact that Tan actually has a pretty good amount of musical ability. His voice is kept smooth, natural, and for the most part (aside from a few reverb and delay effects) free from any kind of junk that people would normally associate with overproduction of artists that are mediocre vocalists. Tan creates interesting vocal melodies on songs like "Tonight" and considering his Malaysian ethnic origins is able to sing free of any kind of accent. This album is catchy, polished, and is fronted by an artist that has a great voice.
As catchy as the instrumentation is on songs like "Heat Wave", it can be said that this album is decidedly nothing new or exciting. Every single arrangement on the EP is pretty typical with the countless other pop tracks that pretty much have the same exact song format. The longevity of an act like this is questionable as well; the entire EP was probably played on by hired studio musicians, and it can be speculated how much of this album is actually Tan's own musical composition or if he had help arranging tracks. Although Tan has great vocal ability, the lyrical content is, again, very adherent to every other pop song that we might here on the radio today. There is nothing wrong with a basic pop song, but Tan delivers us four in a row without a lot of deviation in them. To sum everything up, the music itself sounds okay, but one could probably superimpose Tan's lyrics onto any other pop song today and not be able to tell the vocals and the instrumentation were different from one another. By that same merit, you could put the vocals from any other pop singer on one of the arrangements in "A Summer To Remember" and not know the music and words were meant for different tracks.
Tan offers a very polished, catchy, and concise EP that shows the vocal promise of a budding artist. However, "A Summer To Remember" is very limited and incredibly typical in terms of actual musical substance. With all this being said however, there is potential for at least one single from this album, and Tan as a talented artist only has more room to grow from a very well made yet somewhat timid first attempt.
Label: Independent
Website: http://music.lafamos.com/tan
Genre: Alternative/Pop
Sounds Like: Fun., 5 Seconds of Summer
Technical Grade: 4/10
Production/Musicianship Grade: 9/10
Commercial Value: 9/10
Overall Talent Level: 7/10
Songwriting Skills: 5/10
Performance Skills: 7/10
Best Songs: Heat Wave
Strengths: Catchy hooks and instrumentation, Solid vocal performance
Weaknesses: Repetitive lyrical content, typical song structure with common pop arrangements
Owen Matheson