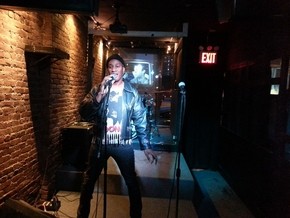 Who is Kenny Fame? He is an Indie-Soul artist out of NYC that has been recently creating a major buzz in the music industry, after having two consecutive local #1 hit song's "Rejoyce" & "Ain't No Biggie". He is currently being featured in Music Connection magazine (October) in the "Live Review" section:
http://musicconnection.com/live-review-kenny-fame/
And also in countless blog's all over the world, ranging from from Pop to Country to Hip-Hop. KFame is currently touring local venues all around NYC & will release his first mixtape: "Kenny Fame: The Diamond Collection / MIXTAPE", by the end of the year; featuring "A Different Day (Remix)". So if exciting new music is what you crave… Just press – PLAY!
A Different Day (Remix):
https://www.youtube.com/watch?v=bco_m4uxI88
Bio: Kenny Fame is an incredible gifted poet / singer-songwriter based in Harlem, NY. His debut CD is a mix of sentimental: Indie-Folk / Urban-Funk / Dance-Pop; that is well needed breath of old school air that gives new music a burst of life.
http://kennyfamemusic.reverbnation.com/
https://www.facebook.com/LeviMusicHD
https://twitter.com/1KFame