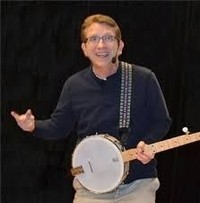 Owen Duggan's music is inspired by the folk music of the US, Canada and the British Isles as well as jazz, classical and world music. Applauded for its positive message and wide appeal, Owen's CD for children, An Elephant Never Forgets, has won numerous awards including those from National Parenting Publications (2006), Parents' Choice Foundation (2006), Children's Music Web (2007) and West Coast Songwriters Association (2009). According to the San Antonio Express-News his music is "reminiscent of the best of Burl Ives, Tom Paxton and Pete Seeger." Today we are reviewing 2 albums on one page. "Puppy Dog Jug and An Elephant Never Forgets.
The 11 song catalogue kicks gets off the ground nicely with "Puppy Dog Jig" a smooth flowing intro piece that serves up an inviting Folksy groove against walking bass lines, effective harmonies and soulful melody from Duggan. Track 2 "Rhino Song" keeps thing moving in the right direction with Saloon Style Piano with steady flowing rhythm, well placed sonic accents painted against a hooky organ chops making for an impressive follow-up piece. Track 3 "Ukulele Song" is another impressive jumpy groove that dishes out Rockabilly rhythm, impressive and thought provoking story line/ Lyrical content that flows and ebbs its way through to motional fruition. The CD makes a great first impression dashing out 3 amazing songs in a row. The musicianship of everyone involved is above the bar. I would classify this music as classic Children's Pop, with brief touches of Folk, Reggae, Jazz and Caribbean Brazilian-Pop type overtones. There's even a Rap and a Country piece. Along the way you will notice lush instrumentation with things like impressive horn sections, Trumpet, Saxophone, impressive solo guitar, well placed percussion accents, impressive sonic touches, well placed Piano and Keyboard, Stand-up Bass, and lush harmonies layered everywhere built upon a an impressive rhythm section. What I like the most about this catalogue is how well all the pieces seem to groove together, testament to hundreds of hours of writing and behind the scenes production work no doubt. Now turning our attention over to all the performers mainly from Owen Duggan – as for his individual contribution – he's amazing! All performances go down smooth and fills the space peacefully and unobtrusively. All songs are extremely well crafted and consistent across the board. The narration and vocal abilities are effective and could contribute to a storyline very well. Duggan's vocal timbre reminds me a lot of Fred Schneider (B-52's). Dugan's vocal and songwriting skillsets really shine on "My Little Nino" .Owen Duggan is a marquee composer/artists within this style of music. All tracks showcased from both albums delivers 11 solid tracks all providing musical enjoyment filled with strong messages and strong melodic variety and musical diversity. From grooving "Little Bitty Ball" to jazzy "Pajama Time" to hypnotic "An Elephant Never Forgets" to melodic "Farmer Joe" has something for just about everyone. Between both albums I like "Puppy Dog Collection" the most.
The fade out at the end of "Farmer Joe" sounds a bit forced to me and a bit too quick. This track doesn't even break the 1 minute barrier – a bit short. Let the song run its natural course regardless of time constraints. To go with this last comment most of the songs featured on (An Elephant Never Forgets) feel a bit brief to me when compared to songs on (Puppy Dog Jig.) I would recommend Duggan incorporate a bit more storytelling and narration to his musical format. .
From start to finish these 11 Tracks featured from Owen Duggan are an amazing collection of stories and music. The songwriting and overall messages – world class, all consistent musical experiences, each one possessing a unique personality, flair, and signature groove. Note for note, song for song there isn't really weak piece on this entire catalog. The writing and playing abilities and overall messages of Owen Duggan and all the behind the scenes players is rock solid. Duggan is a gifted storyteller as delivering music like this is not as easy as it sounds. The melodies and harmonies are well crafted, and some of the sparse narration is effective and on point. At the end of the Day Owen Duggan and his amazing music are sure to be a hit and inspire kids all around the world.
Label: OLDmusic Productions LLC
Genre: Children's Music
Technical Grade: 10/10
Production/Musicianship Grade: 8/10
Commercial Value: 9/10
Overall Talent Level: 10/10
Songwriting Skills: 8/10
Performance Skill: 9/10
Best Songs: Little Bitty Ball, Pajama Time, My Little Nino. Rhino Song.
Weakness: a few short sided songs, forced fade out's, more narration
http://owenduggan.com/index.htm
Cyrus Rhodes