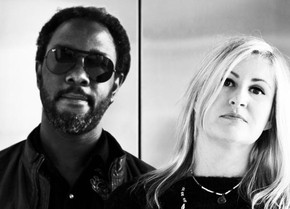 68-75 is singer Suzanne Sledge and guitarist Andrew Cylar. Their raw rock sound mixed with Suzanne's all out gutsy soulful southern edge creates a powerful style of rock. The band formed in 2011 and released their first EP in 2012. In 2014 they released a new full length CD "Stay On The Ride". Their sound has not gone unnoticed and numerous magazines and radio stations are raving about them. The band has shared the stage with the legendary Leon Russell, Joe Bonamassa, Blackberry Smoke, Jackie Greene, The Steepwater Band, Sister Sparrow and The Dirty Birds, SIMO, Ike Stubblefield, Chris Duarte, Marc Ford and Trampled Under Foot, to just name a few. Excitement is continuing to build about this band with talk of a UK tour in the near future.
Suzanne, I have to ask how you came up with the name 68-75?
The short answer: We arrived at the name 68-75 by default. When we tried to come up with a proper name, every other name we tried was either really clumsy or tragic. 68-75 just seems to fit what we are attempting to do. The long answer: When we started back to work in 2011 we didn't have a name, so we half jokingly called ourselves the 68-75 rock and soul review. However, we weren't joking about our appreciation of the music made between 1968 and 1975. The music of that short eight year period is amazing. It could have been the influence of The Beachboys Pet Sounds in '66 and The Beatles' Sgt. Pepper's, and Hendrix' in Are You Experienced in '67 that got everything rolling. Maybe it was the civil-rights and counter-culture movements that started people asking questions? Questions led people to be open to whatever, wherever and whomever they might find answers in. If you're open socially, culturally, politically you're likely open artistically, as well. Artists are able to produce amazing things when the audience is open and willing to listen. We don't know why really, but it just seems the stars aligned from 1968 to 1975 to produce incredible great music.
Who were your musical influences?
We listen and love all types of music, especially late 60s – 70s Blues, Rock, Gospel and Soul. We love the Stones, The Band, Aretha, Howlin' Wolf, The Who, Elmore James, Small Faces/Faces/Humble Pie/Steve Marriott, Nick Drake, Van Morrison, Donnie Hathaway, Serge Gainsbourg, Terry Reid, Peter Green era Fleetwood Mac, The Staple Singers, Zeppelin, Scott Walker, Bobby Womack, Neil Young, T-Rex, Mahalia Jackson, Sly and the Family Stone, Nina Simone, Buddy Guy, Stone The Crows, David Bowie/Mick Ronson, Thin Lizzy, James Brown, Bill Withers, Karen Dalton, Frankie Miller, Free…we really love Free. Those are really just a few of the artists we love.
We're still listening and finding contemporary music, too. We love The Black Angels, Mount Carmel, Anthony Hamilton, The London Souls, Maker, D'Angelo, Heartless Bastards, Tedeschi-Trucks band, Wolf People, Rosco Levee, The Steepwater Band, Stone River, Donnie (from Atlanta), Ozone Mama and the Buffalo Killers.
Who are the current band members?
It changes based on who we can find that can play with a feel for the music we love. Atlanta has a lot of great musicians, so it comes down to who is available. Right now we feel really luck to have Justin Senker on bass and Joanie Ferguson on drums. When we record, we try to include Marty Kearns on piano and Hammond organ.
Andrew, did you have music lessons growing up and when did you first pick up a guitar?
I've always been completely obsessed with guitars. The sound, vibrations, different shapes and styles of guitars. I would stare at guitars in Sears and Service Merchandise catalogs for hours when I was kid. We had a neighbor who would sit on his screened porch at night in the summer, drinking and playing his guitar. Some of the kids on my street would sometime sneak over and sort of hide near the bushes or sit very still behind the porch and just watch. It was the first electric guitar I ever saw someone play – live in person. It was a beautiful cherry red Gibson 335 and he'd sit there and play John Hooker like patterns on it with his thumb. He'd pretend like he didn't notice us, but he'd turn the porch light on so we could see. Like most musicians, I think he was secretly happy to have any audience at all. The summer before my sixth grade, my family moved. In an effort to help me get accustomed to my new school, my mom let me take a Saturday morning group guitar class on a rented acoustic for a few weeks. I recall feeling the class moved too slowly, but still really excited to be actually holding a guitar. Later that year, my parents gave me an Encore electric guitar and a small Sears Silvertone amp for Christmas. I immediately tried to find other kids to start a band with, but was a little tricky coordinating who could borrow this or that from their older brother and who's mom would stand the noise in the basement or garage. By junior high I had discovered a guitar shop called Mayfield Music where actual musicians worked and hung out. I'd catch the bus on Saturdays and go hang out for hours, watching and listening to people who could actually play. If the store wasn't too busy, I'd sometimes ask how certain sounds on this record or that record were made. Barry, who owned the store, or the repair guy, Minot, would plug in different guitars, effects and amps up to show me how those sounds were made. There was no YouTube or directional software then, so that's how I learned to play, really – hours and hours of watching, listening and obsessing. I'm still trying to get it right.
"Kicking Down The Stall"
https://www.youtube.com/watch?v=e_vqFlG_o8A
Tell me how you and Suzanne met and started making music together?
I had a band that used to rehearse in a warehouse. Actually, this particular warehouse was divided into small rooms with funky carpet on the floors and walls. On any given night there would be 30 or 40 bands bashing away in different rooms throughout the night. Suz posted a flier on the warehouse walls with a really interesting mix of influences. I called and Suz met me at my band's rehearsal space. Suz had an old mahogany Guild guitar and we showed each other a few songs were working on. Mostly we talked about music we loved and the kind of music we'd like to hear. We talked about everything from Nick Drake, Faces, Howlin' Wolf, Reverend Gary Davis, Son House, Neil Young, The Band, Sly and The Family Stone, The Stooges, Hendrix (or James Marshall as Suz calls him) 70's era Stones, Chet Baker, Bill Withers, Staple Singers, to what was contemporary then – Jeff Buckley, Chris Whitley, The Bellrays, 16 Horsepower, The Detroit Cobras and our beloved, James Blood Ulmer. It just clicked. Mostly because weren't talking about genres, styles or periods of music we were talking about what moved us – what music had the emotive qualities we were looking for. That's what we wanted to hear and that's the music we are attempting to make.
What are your favorite venues to play at?
Really, we just enjoy playing. For us, the audience and the people running the boards make the venue. If we're able to present our sound and we're getting a response, or any feedback from the audience, it doesn't really matter where we are playing. We dream of playing the UK, because of the history and talent that's played in so many of the venues there.
What albums do you have out and where can they be purchased?
68-75 "Sanctified EP" recorded in 2002 and remastered in 2012 available through CD Baby and on I-Tunes
68-75 "Self Titled" available through CD Baby and on I-Tunes
68-75 available through CD Baby, on I-Tunes and in store at Rock 'n Roll Circus in Madrid, Spain
"Stay On The Ride" is available on CD, I-Tunes, Amazon, Zune, Spotify, and more.
Tracks can be previewed at:
http://www.reverbnation.com/6875rock
http://6875.bandcamp.com/
Diana Olson – diolson05@yahoo.com