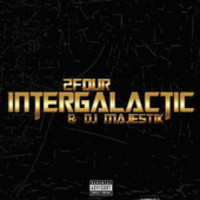 2Four & DJ Majestic offer up a bombastic collection on "Intergalactic". Incredibly loud it is pure party music. The music virtually demands to be put on full blast. Adhering to a strong pop template the songs clock in around the three minute mark. Vocals are shouted. Extremely energetic the songs virtually burst at the seams, with heavy emphasis on the dubstep rhythms crushing everything in their wake. Such an environment leads to these songs basically overwhelming the senses with intricate remarkably busy arrangements.
Buy – https://itunes.apple.com/us/album/intergalactic-single/id884354657?ls=1
Listening Link – https://soundcloud.com/the-real-2four/sets/intergalactic
"Lockdown" begins it in style. Starting off with disembodied vocals the song gradually increases in intensity until it becomes dominating. The sound grows ever more crazed with the song's many textures moving at a breakneck pace. For "Intergalactic" 2Four & DJ Majestic create an economical stripped down dance track. With a comfortable groove and catchy melody the song is the collection's true highlight. Casual yet rather physical in execution the song is a full-bodied success. On "Way Too Fly" the song takes on a playfulness that lasts the duration of the song. Rhythm upon rhythm the song is a flurry of activity. Vocals are the center of this sonic madness helping to give the song's chaos a little bit of structure. Ending things off is the gigantic "Live It Up" which is the catchiest piece on the track with a gradually evolving melody. By the last moments of the track the collection seems to go full circle.
"Intergalactic" is a positively massive collection.
http://www.thereal2four.com/
https://www.facebook.com/TheReal2Four
https://twitter.com/TeamReal2Four
http://instagram.com/thereal2four
https://www.youtube.com/TheReal2Four
Posted by Beach Sloth