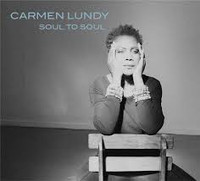 (WOODLAND HILLS, CA) California based singer/songwriter/musician Carmen Lundy just released her new CD entitled appropriately enough "Soul to Soul" in 2014 Carmen Lundy began her professional career in Miami, FL as a jazz vocalist and composer when there were very few young, gifted and aspiring jazz vocalists on the horizon. Over four decades later, Ms. Lundy is celebrated throughout the world for her vocal artistry and is highly regarded for her jazz innovation.
Currently on the Afrasia Productions label, Carmen is releasing her 14th album in the Fall of 2014. Almost two years in the making, "Soul To Soul" consists of new original songs by Lundy, and a few very special collaborations. The album features legendary artists – specialists on their respective instruments – including Patrice Rushen, Geri Allen, Randy Brecker, Ada Rovatti, Warren Wolf, Bennie Maupin, harpist Carol Robbins, and Simphiwe Dana, a stunning South African vocalist and composer, among others.
With a list of artistic and professional achievements as long as my arm I suspect Lundy is not new to this. In fact it's quite clear to me that this West Coast based vocalist is not only experienced, she could probably be heralded as someone to keep a watchful eye on. Seems as if many on the West Coast agree with this last comment. In music, delivering breathless performances and challenging conventional wisdom are often deliberate efforts to establish a marketing niche, but for Lundy it's feels like a natural state of mind and being. Many of her past releases garnered rave reviews from music critics I discovered during my preliminary research – and I am going to one of them. Having recorded more than thirteen albums as a leader, Carmen's far-reaching discography also includes performances and recordings with such musicians as brother and bassist Curtis Lundy, Ray Barretto, Kenny Barron, Bruce Hornsby, Mulgrew Miller, Terri Lyne Carrington, Kip Hanrahan, Courtney Pine, Roy Hargrove, Jimmy Cobb, Ron Carter, Marian McPartland, Regina Carter, Steve Turre, Geri Allen, Robert Glasper, Patrice Rushen and the late Kenny Kirkland. Ms. Lundy's 2005 release, the hugely successful "Jazz and The New Songbook-Live at The Madrid", features some of the jazz world's best known musicians paying tribute to Ms. Lundy.
This amazing 13 track collection is a finely tuned balancing act that speaks volumes about Lundy not only as an artist but as a human being. Along the path one will find vivid songwriting and evocative emotions. Songs like "Soul to Soul", "Daybreak" and "Grace" charley are swimming in the deep end of the pool with acts such as Nina Simone,
Dianne Reeves, Lizz Wright, Carmen McRae and Casandra Wilson. "Soul to Soul" more closely resembles vintage Jazz songs in terms of length and musical form, but this is not to say its only element.
As a first track " Kindred Spirits" gently rolls out through a roughly 5 minutes intro piece of music ranging from light hearted Jazz, Jazzy-pop, Soul and even course the up close and personal singer-songwriter style. Others like "Everything I Need to Know", When Will They Learn" and Between Darkness and Dawn" dig a bit deeper and a more elusive and boldly honest about the human condition. Lundy speaks the truth in a delightful way and without sugarcoating.
In the pleasant malaise of sound and songs-manship this CD, be prepared to be set adrift on a peaceful sea of emotions. Other times awry in happy thoughts, sometimes displaying a dry "been there done that" sense of humor. BTW – she has 13 albums to her credit. Finally her voice really seals the deal for me in the end, especially how high and low along the emotional and tonal spectrum she travels. Carmen Lundy – she's amazing any way you look at her.
Listen to "Grace" Song Sample: http://somethingelsereviews.com/2014/09/21/something-else-sneak-peek-carmen-lundy-grace-from-soul-to-soul-2014/
URL: http://www.carmenlundy.com/
Score: 5/5 Stars
Carl Pederson