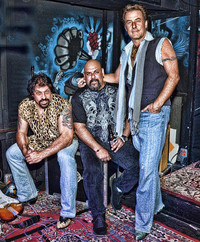 (Long Island) New York based blues band Phil Varca and The Slamjammers are no stranger to musical movement. The band is composed of three veteran rockers: Phil Varca (guitar. vocals), Tom Porter (Bass) and Russell Stone (Drums.) Having cut their teeth with multiple albums and 35 years of experience they have also has enjoyed a healthy dose of touring and working with some very notable names. Thus including shared bills with: Buddy Guy, Joe Bonamassa, Foghat, Dave Mason, Bo Diddley, Clarence "Gatemouth"Brown, NRBQ, Double Trouble, Shemekia Copeland, Chris Duarte, Popa Chubby & John Cafferty.
2 hot new tracks:
-Struttin' (2:50)
-Come and Get It (4:46)
I honestly can't think of a better time than now to unleash the kind of classic retro style Rockabilly –Blues music to the world. Having listened to the radio today – most would agree it's time for something different. There are two tracks I checked out today from these cats: Struttin' and Come and get it. Both tracks are outfitted with a distinctly familiar 50's style rock feel with a rock edge that takes no prisoners. The Slamjammer sound, personality just gives the music credible bulk and authenticity. Make no mistake – Phil Varca and company are very interesting and a little dangerous. Varca's upfront vocal style and dreamy guitar landscape backed by a non-urgent crack of the Bass and drums gives perfect dimension to Come and Get It. Struttin' is a tune that takes no time to build but when it peaks it is an immediate transport to days past, and a welcome one at that. On it you can expect thick and nasty guitar riffs and then transforms into something ferocious and delicious as it unwinds. Both tracks dish out hooks in all the right places and could easily stand shoulder to shoulder with Sublime, Batmobile, The Meteors, Demented Are Go and The Quakes. Coming full circle with influence from the past and modern day musical mentality, these beauties inspire that eyes squeezed tightly shut drifting off feeling brought about by the likes of Stray Cats, Hillbilly Hellcats, and The Hillbilly Moon Explosion not so much in likeness but more like in a thrumming of the heart, as perfectly wrought songs should be able to do.
Criticism: It's fair to say Varca's voice is rough around the edges and could use a bit more finesse. As a song Come and Get it is a bit long (4:46) while Struttin' is a bit short (2:50).
It also obvious that the Varca and company has not taken their experience in the music business lightly, nor is this latest effort a heavy-handed grasp at recapturing glory days. For those in the immediate area who are able to catch these guys live this is a great way to hear some home-bred music by some talented people, and for those in any other city this is a great band to try to model after. If you want to start a band go this direction. In a world where corporate is king and cheesy music gets product top dollar product it's nice to see a real good band play over my speakers for a change. With a well-trained ear for what brought them to my ears in the first place Phil Varca and The Slamjammers have given us 2 hot new tracks to chew on and offered the world a cutting edge glimpse of this amazing style of music. There is something to be said for good Blues. We can only hope that there is much more where this came from.
AMAZON: http://www.amazon.com/Live-Riverhead-Phil-Varca-SlamJammers/dp/B004QRS870
Primary URL: http://www.philvarcaandtheslamjammers.com/
C.N. Morehead