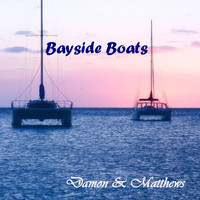 Damon & Matthews deliver their latest album, Bayside Boats, a collection of easy listening so laid back it's virtually floating on the gentle waves.
Listen – http://damonandmatthews.bandcamp.com
Opening with the album's title track, 'Bayside Boats' comes across as a kind of poor man's 'Dock Of The Bay'. With that Otis Redding classic casting such a long shadow, it's a pretty tall order for anyone to write a song about the experience of looking out over the bay and pull it off with any sense of originality. That said, Damon & Matthews have stepped forward bravely to perform a valiant attempt at making some new music that falls firmly into the easy listening category. Vocally, the performances are wistful and melancholic, with a tone that leans towards a more lo-fi indie aesthetic, in the style of the highly experimental Jay Tholen.
Damon & Matthews featuring Flip Damon – "Didn't Have To Know"
http://www.youtube.com/watch?v=U93T_4BsqLY
It's not all distant, held back performances though – 'Lost At Sea' picks up the pace somewhat surprisingly and throws in some spiky stabs of electronic keys amongst the swirling organ, and the parping faux brass of 'Beat The Clock' certainly carries the potential to bring a smile to a few faces. The waterside theme is well maintained throughout the album, and there are many moments that place the listener into a relaxed world of holiday entertainment.
http://showcaseyourmusic/FlipDamon
http://www.reverbnation.com/damonandmatthews
By Chris Marsh