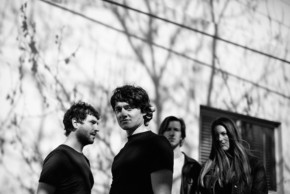 Melbourne band Magic Bones release their follow-up single and video for 2014. "Anytime Anywhere" is a driving garage punk duet, a stay or go scenario, drawing influences from 70's rock and 80's new wave garage punk.
Magic Bones will be touring "Anytime Anywhere" as main support for British India's upcoming national tour with dates in Melbourne, Brisbane, Sydney and Adelaide over October and November 2014.
Their last single Round The Block saw praise from blogs and radio around the country and abroad and was a firm favourite at Triple J. After being featured on Richard Kingsmill's '2014' program it was then added to high rotation in March 2014 and is still getting regular plays.