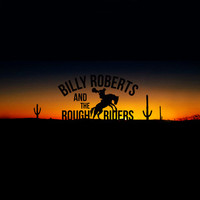 Billy Roberts and the Rough Riders is a celebration of Americana. "The Last of the Originals" does country music just right. Everything fits together perfectly from the western twang of the guitar to the bluesy feel of the band. With great attention to detail the songs feature fiddle, harmonica, helping to give color. Lyrically the songs are heartfelt about growing up, longing, and being unique in the world, a true iconoclast. With a particular interest in American history and folklore the songs are complete stories.
Listen – https://billyrobertsandtheroughriders.bandcamp.com/
"Mrs. Jones" opens the album up with great energy. A nice driving tempo accompanies the themes of reaching maturity. Yearning defines the indomitable spirit of "I'm Gonna Get That Girl". For "My Baby Gone Cold" Billy Robert and the Rough Riders slow things down a little bit turning down the intensity. Dreamy textures define "Never Know" with guitars that sparkle and shine like the midnight sky full of stars. The harmonica serves as a particularly adept touch on the shuffling "No More Mr. Nice Guy". As a sort of campfire-themed story is the sweetness of "I Was Young". By far the highlight of the album is the impressively grandiose "Davy Crockett and the Alamo" whose narrative sensibilities are reminiscent of the extensive storytelling heard in "The Fiery Furnaces" right down to his vocal delivery. As a satisfying conclusion is the bombastic "Red Head Baby" ending things off on the perfect note.
Full of heart, grit, and soul "The Last of the Originals" is a true masterpiece of an album.
www.billyrobertsandtheroughriders.com
Posted by Beach Sloth