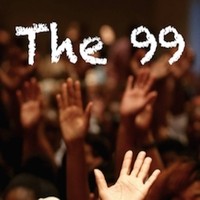 The 99's self-titled debut is political pop done right. Lyrically the songs are subversive. Instrumentally the songs have a glorious sheen to them that gives them an almost jazz-fusion kind of sound. When the subversion is put alongside these rather luscious sounds the result is something that truly engages. Each song reinforces the general theme of the collection: that of economic hardship mixed with hope for better moments. The 99's own name suggests this: the views of the 99 percent who constantly face these troubles and takes them in stride.
Listen – https://soundcloud.com/the-99-3
"Rough Times in America" opens up with a full-bodied groove. The chorus is quite glorious. Beginning with lyrics that emphasize the hope America offers it soon transforms into an impassioned plea for a better life. While the groove continues the slow cycling of the sound leads to a particularly fine conclusion to the piece with a restrained guitar helping to bring everything to a clean conclusion. For "We Ain't Buyin'" The 99 use a faster giddier tempo. Much less dense sonically than "Rough Times in America" the song uses slight flourishes of synthesizers and horns to emphasize a better future.
On the finale "Do You Wanna Go" The 99 get particularly raw. Gone are the smoother edges of the previous tracks. With the furious guitars and brash percussion the song focuses on the desire for a more equitable future. For all the sadness on the collection there is a tinge of optimism that makes it truly wonderful.
https://www.facebook.com/RTIA1
Posted by Beach Sloth