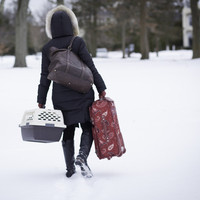 With her unique blend of country and blues, Cara Smith's Off I Go is a collection of feel good tunes to get lost in.
https://carasmith.bandcamp.com/releases
'Gonna Get Up' set the tone from the start with its upbeat, cheery country vibe. The rhythm shuffles along as Cara Smith's vocal struts confidently through the track's mix. There's certainly a touch of Dolly Parton in there – her voice is strong with a whole heap of character. Showing a more tender side, 'Box 6′ brings a softer tone, with Smith's vocal smouldering and soaring. It's a track with a killer chorus, a kind of Michelle Branch melody that threatens to lodge itself in your memory for the coming week. 'Put Me On The Train' drips with melancholy, a sad sounding track filled with yearning. The delicate organ that swirls in the background is the perfect underlying tone beneath the wistful vocals, while 'Take Me Back' turns the heat back on again with a snappy guitar part that leads into more glorious organ. The track's mix is rich and varied, with yet another stunning hook that falls again into the earworm category, as it builds into its gospel tinged glory. Closing with 'Sing You Home', Off I Go reaches its conclusion in a somewhat understated style, but in a way that showcases Cara Smith's voice once more as skilled and confident, and leaves the listener wishing for more.
http://www.reverbnation.com/heycarasmith
By Chris Marsh