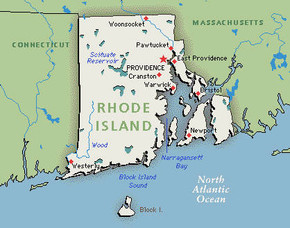 Rhode Island may be the smallest state in the U.S., but it's not a state you can easily ignore. With a cultural attitude of ambition and drive, it's no surprise at all that you can trace several musicians back to their roots in this beautiful state. With a state so small, if you live in Rhode Island, you won't be far from where these musicians grew up!
Blu Cantrell
R&B singer Blu Cantrell was born in Providence as Tiffany Cobb, taking on her stage name when she entered the music business. She started off collaborating with well-known artists like Usher, will.i.a.m, Fat Joe, and Herbie Hancock. Her debut album was released in 2001, containing the song most people associate with her: "Hit 'Em Up Style (Oops!)," an attitude-filled R&B jam about taking revenge on her cheating man by spending all his money. Her other big hit, "Breathe" with Sean Paul, was also a song about a bad relationship, though with a little less New England sass than her first hit.
Atwater-Donnelly
If you listen to talk radio more than to top 40 stations, you might recognize this folk band from Rhode Island, consisting of musicians Aubrey Atwater and Elwood Donnelly. Most bands playing Appalachian folk music come from much further south, but these New Englanders met volunteering at Stone Soup Coffeehouse, a well-known folk music venue that has hosted concerts by artists like Pete Seeger and Marshall Crenshaw.
NPR's All Songs Considered has featured performances from the duo. They're also notable for being one of the very first musical acts ever to have a website, as a fan helped them put one together back in 1995.
Billy Gilman
This child superstar was born in Westerly, Rhode Island and has been quiet in recent years, but anyone listening to country radio in 2000 remembers his single "One Voice," which made him the youngest singer to have a Top 40 hit on the country charts at 11 years old. His debut album went double platinum, and he released five albums from 2000 to 2006 before fading out of the limelight.
Now 25 years old, Gilman is returning to his music again. His website talks about his journey from being a child artist to being an adult who can make his own musical choices. His newest single, "Say You Will," was released in 2014 and is the first solo single he's released in six years.
Jesse Leach
While the name may not be instantly familiar, metal fans will recognize his voice. He's been the lead singer for several bands, including The Empire Shall Fall, Times of Grace, Seemless, and Killswitch Engage. He was the first lead vocalist for Killswitch Engage but left after two years due to some personal issues. In 2012, he returned, to the delight of avid fans. This famous voice grew up in Providence, Rhode Island, and was even briefly in the movie Outside Providence, set mostly in his home state.