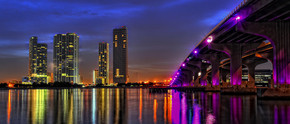 Miami, Florida, has always been steeped in culture and rich in music history. Cubans brought the hot sound of the conga and rumba to the forefront while Caribbean transplants introduced the natives to reggae and calypso. The city offers a music vibe like no other and hosts the annual Winter Music Conference, which is the world's large dance festival. Nightlife is always vibrant with clubs like Ink, Cameo, Mansion and Parkwest, all having had featured music acts at one time or another at their establishment.
Dating back as far as the days of Miami's disco scene, one prominent band comes to mind when discussing smash hits from the '70s, KC and the Sunshine Band. This group exploded on the national and international scene while putting the spotlight on Miami with such disco hits as "Get Down Tonight," "Shake Your Booty," "I'm Your Boogie Man," and "That's the Way (I Like It)." During the early years of making music, many up-and-coming music groups had to practice playing inside the tiny garages of their homes.
The Miami recording industry began in the '70s when Fleetwood Mac recorded "Rumours" and The Eagles recorded "Hotel California." These days, with South Beach lined with dozens of multi-million dollar estates, many artists who live in the Miami area have stately mansions equipped with their own private studios. The business of recording in Miami continues to bustle. Kanye West, Mariah Carey and Gwen Stefani have all raved about Chris Blackwell's South Beach recording studio. Even musician Lenny Kravitz has opened up a state-of-the-art recording studio inside Miami Beach hotel, The Setai, where super entrepreneur Jay Z and singer Mary J. Blige spent time recording.
Gloria Estefan and the Miami Sound Machine ushered in the 1980s and kept Miami hot with Billboard Top 40 hits like "Bad Boys." The group's soulful Cuban sound dominated the charts for years. During the 90s, the urban sound of southern rap came bursting on the airways and claimed Southern Florida as its hub. The most popular Miami based rappers included: 2 Live Crew, Tag Team, Quad City DJs, 95 South and 69 Boyz. Their high-energy Miami bass sound won over fans outside the Sunshine State and heavily influenced the industry. Miami is home to popular hip-hop artists such as: Rick Ross, DJ Khaled, Flo Rida, Trina, Trick Daddy and Pitbull. Other artists travel to Miami to record albums and soak up the local flavor. MTV Latin America is based in Miami and serves the residents of Argentina, Mexico, Venezuela and other Latin American countries.
Thousands of tourists and music lovers continue to flock to Miami each year to enjoy and be influenced by the sights and sounds. From rock and roll to Latin salsa, Miami has everything to offer the musical palette with dozens of venues and beach areas to accommodate musical performances by local and popular artists. Miami is definitely continuing to make music happen.