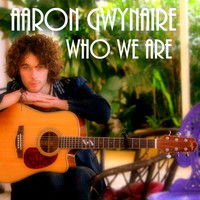 "Who We Are" is a collection full of sunny optimism. Aaron Gwynaire's arrangements are tasteful and remarkably clear. Giving the songs a relaxed feeling works wonders for the mood of the collection. By focusing on positivity the songs create an inviting atmosphere. The vocals are strong and the lyrics are clever. Clearly Aaron Gwynaire is quite aware of the tradition he follows letting the song unfurl slowly. Indeed the tempo for these pieces opts for slower speeds letting the emotional impact take hold.
http://aarongwynaire.bandcamp.com/album/who-we-are
Opening with the Smiths-inspired title track "Who We Are" starts the collection off on a high note. The song is pop perfected. Guitar work has a tender approach to it which feels appropriate for the love struck beauty of the piece. For "Twilight" the pace slows down further with Aaron Gwynaire's joyful wordplay serving as the heart of the piece. Eventually the piece slowly unfurls leaving only his reassuring voice. "Dance Into Another Day" serves as one of the airier pieces building itself into a gentle chorus. By far the highlight of the collection is the innocence of "Make Believe". Complete with a quirky arrangement and giddy piano the song is a lovely piece.
Ending the collection off on the peppy "Head Over Heels" the song builds up into it ends in a full bloom of piano, drums, guitar and Aaron Gwynaire's emotive voice. "Who We Are" is a sweet collection that shows how inspiring love songs can be.
https://www.facebook.com/aarongwynairemusic
Posted by Beach Sloth