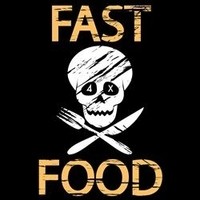 With its relentless repetition of the mantra like phrase "She twerkin'" from the opening of 'Talk To Me Now!!!', the track embeds itself in the frontal lobes like a cerebral wasp.
Listen – http://k007.kiwi6.com/hotlink/0vumig6j01/4X_-_Talk_to_me_now_.mp3
The beats are restrained, not filling the spectral soundscape and yet create a solid base for the simplicity of the rap lines delivered by 4X. At three and a half minutes, this is as close to pop that hip hop gets these days, and there's a lot to be found in the mix that would be ideal if it were sampled or added to a track from any female vocalist looking for some edge to be brought into the stable. On its own, 'Talk To Me Now!!!' is one part a strong example of what 4X has to offer, while being another part curiously sparse in terms of depth and writing – at points it feels like the track is in fact one long chorus line, or even an extended intro. That said, the beats are certainly beefy – the sort that will be guaranteed to annoy the neighbours when blasted out of windows or car speakers, and when all is said and done we should probably admit that is in fact the target audience well met.
By Chris Marsh