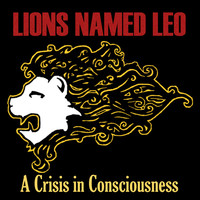 Lions Named Leo is a band from Bakersfield, CA. Their latest release, A Crisis in Conscientiousness not only is a clever title, as is the name of their band, but is awesome quality with a full on, positive vibe of hard core energy.
Listen – http://lionsnamedleo.bandcamp.com/releases
Wow, very rarely does any band leave this writer speechless. These guys rock, they are a clever arrangement of rock, ska, reggae and so much more that comprise a unique sound known as Lions Named Leo. It is an eclectic mix that pulsates driving rhythms and top notch musicianship creating a fierce powerhouse.
Despite their vivacity they are not afraid to temper their spunk to expose their softer side. But make no mistake this band is attention grabbers and once you are engaged it is best to let go and enjoy the ride. My favorite song is, Big Stage, perfect display of everything this band has to offer, strong instrumentally, incredible mesh of vocals and harmonies, with flawless execution. It is my favorite track, but not limited to only that song, the entire CD changes your outlook and fills this world with fun goodness.
Lions Named Leo have gained a fan in me and it was an easy win, their quality is deserving of the utmost respect. Check out, A Crisis in Conscientiousness, and be prepared to be blown away. I look forward to following their success and wish them a long prosperous career. I guess they did not leave me as speechless as I thought, since I could not stop spilling out splendid accolades for these guys. Rock on!
I rate this 5 out of 5
Rebecca Hosking – hoskingrebecca@gmail.com